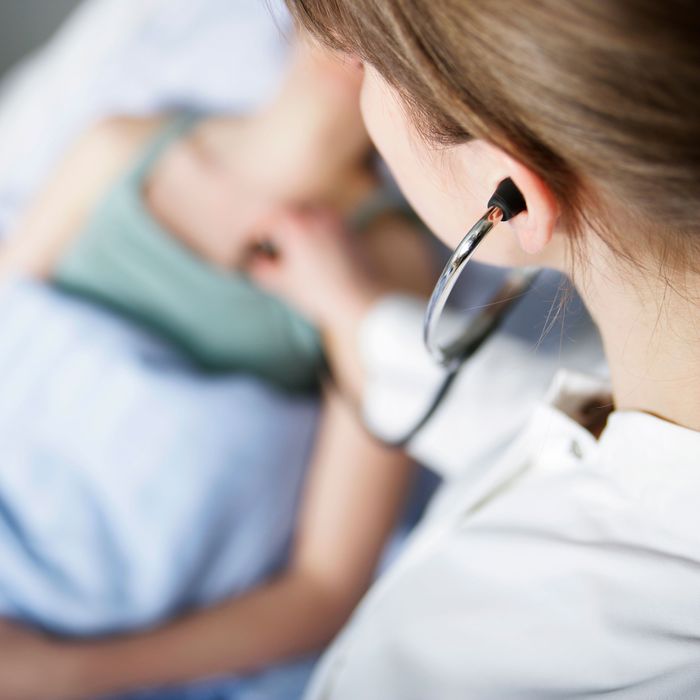 Photo: Team Static/Getty Images/fStop
It's previously been suggested that female doctors may provide higher quality of care than their male counterparts, as they are more likely to stick to clinical guidelines and provide more preventative care. On top of all that, however, a new study also found that female doctors working at hospitals have lower 30-day patient mortality and readmission rates. In other words: Their patients are less likely to die.
Researchers from the Harvard T.H. Chan School of Public Health looked at 1.5 million elderly Medicare patient hospitalizations between 2011 and 2014, focusing on 30-day death and hospital-readmission rates. During the study period, patients who were treated by female internists had slightly lower mortality rates (11.07 percent, as opposed to 11.49 percent) and lower readmission rates (15.02 percent, compared to 15.57 percent) than those treated by male internists.
In the study, which was published in the journal JAMA Internal Medicine, researchers noted that, though the differences in patient mortality rates between male and female doctors may be "modest," the findings mean that approximately "32 000 fewer patients would die if male physicians could achieve the same outcomes as female physicians" each year. The authors wrote, "Understanding exactly why these differences in care quality and practice patterns exist may provide valuable insights into improving quality of care for all patients, irrespective of who provides their care."
In an accompanying editorial, doctors from the University of California, San Francisco, pointed out that female academic physicians make less than men and are less likely to reach the rank of full professor as men. Given that the system is "increasingly focused" on pay for performance, rewarding behaviors that result in better outcomes for patients may help narrow the gender pay gap in medicine.
"These findings that female internists provide higher quality care for hospitalized patients yet are promoted, supported, and paid less than male peers in the academic setting should push us to create systems that promote equity in start-up packages, career advancement, and remuneration for all physicians," the editorial authors wrote.