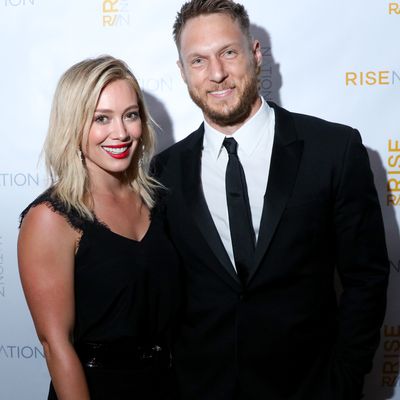 Hilary Duff and Jason Walsh.
Photo: Mark Davis/Getty Images for Rise Nation
Hilary Duff and her personal trainer-cum-boyfriend Jason Walsh have broken up, according to People. Duff and Walsh only went public with their relationship in October, but they were rumored to be dating for months before that. People's source claims the couple parted ways over a difference of opinion on where to live, love, and train. "They weren't on the same page," the source said. "He wants to move to New York, but her life is in L.A."
The website Gossip Cop reports that the breakup happened last week. This checks out: A week ago today, Duff got bangs.
Still, questions remain. What precipitated the breakup? Who did the dumping? Is Walsh now unemployed? So far Duff, Walsh, and my most trusted news source, @HilaryNews — the "ultimate source for news on singer, actress, author, fashion designer, & entrepreneur @HilaryDuff" — have yet to comment.
Here's hoping that everyone is okay and that Duff's next partner encourages her to make better Halloween-costume decisions.