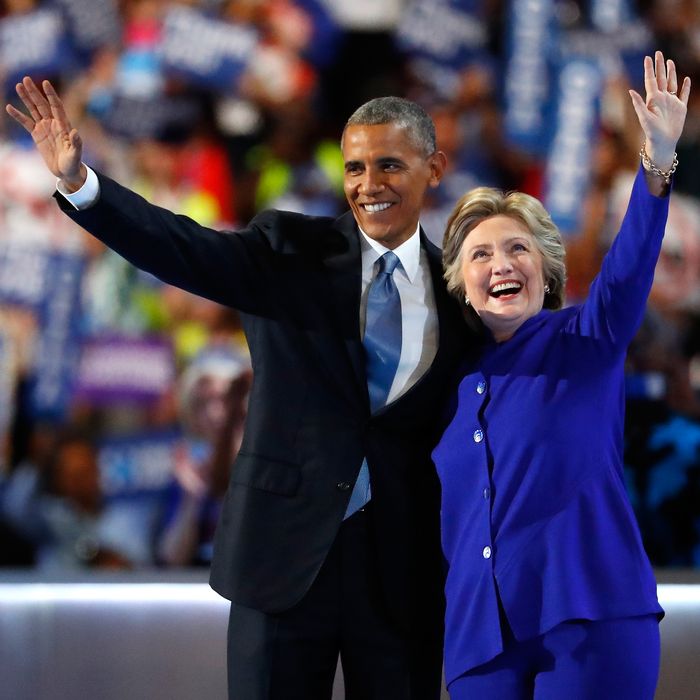 Photo: Aaron P. Bernstein/Getty Images
Every year since 1946, Gallup has performed an annual survey of a random selection of Americans asking them to choose one man (and subsequently one woman) they admired most that year. Every year since 2008, Barack Obama and Hillary Clinton have held the top spot for the man and woman Americans most admire.
The Gallup poll results are based on phone calls made between December 7 and December 11, "with a random sample of 1,028 adults, aged 18 and older, living in all 50 U.S. states and the District of Columbia," it says. This year, Hillary Clinton snagged the top spot for the 15th consecutive year and the 21st time. From Gallup:
Americans named Hillary Clinton the Most Admired Woman for the 15th consecutive year and 21st time overall. Since her initial win in 1993 as first lady, Clinton has topped the list every year but 1995 and 1996 (when she finished behind Mother Teresa) and 2001 (behind Laura Bush). Eleanor Roosevelt has the second-most No. 1 finishes among women, at 13.
Michelle Obama followed Hillary Clinton in Gallup's poll as the second woman Americans most admired, and Barack Obama was followed closely by Donald Trump in the poll, receiving 15 percent of participants versus Obama's 22 percent. This was the first time Vice-president-elect Mike Pence has made it into the top ten men Americans most admired. Let that sink in for a minute.