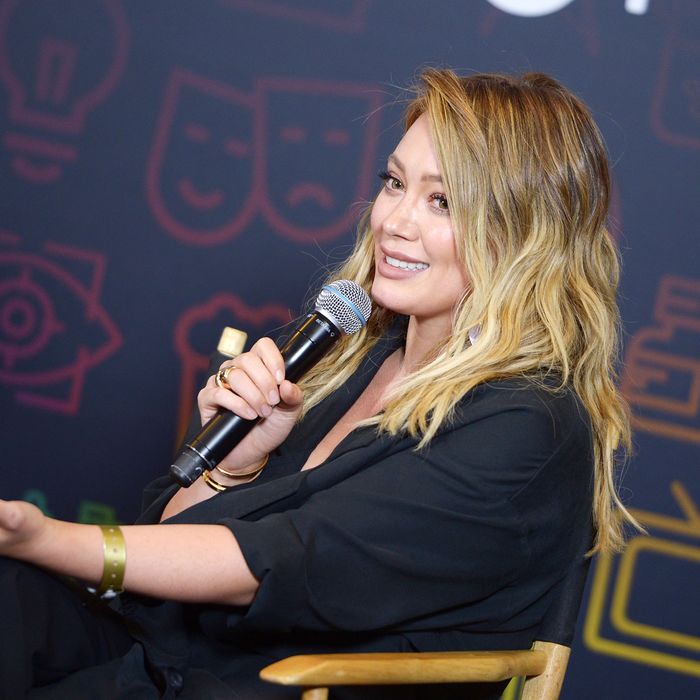 Hilary Duff.
Photo: Matt Winkelmeyer/Getty Images for Entertainment W
Damned if you do, damned if you don't. That's a feeling that, as a woman in Hollywood, Hilary Duff seems to understand fully well. In a segment on the daytime show, The Talk, Duff spoke about the near-impossible double standards women — particularly in Hollywood — are held to when it comes to relationships and children.
It's rare and admirable, she said, for someone like Jennifer Aniston to confidently speak about not having children (after what seems like eons of unnecessary speculation, we might add). Still, Duff says she faced a different kind of scrutiny for making the opposite decision. "I feel like I was judged for having a baby too soon, and getting married too soon and now, I'm pigeonholed for being a 'mom,'" Duff said. "Lots of women in the industry that don't have a child yet are judged." (Duff has a 4-year-old son, Luca, from her previous marriage to hockey player Mike Comrie.) Women, she said, remain among the most desirable and most scrutinized while "Nobody cares about men's personal lives as much as women." This is perhaps true. And it's also perhaps why, in anticipation of the eventual press coverage surrounding her love life, Duff decided to quietly break up with her latest boyfriend, Jason Walsh, who also doubled as (or began as?) her personal trainer. Relationship rumors in Hollywood might be hard to tamp down, but they're especially hard when said couple makes headlines for questionable Halloween costume choices.