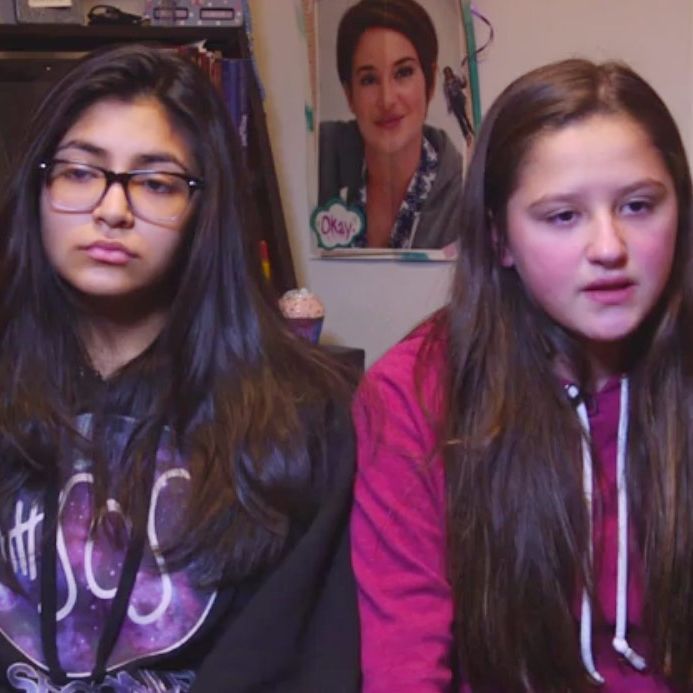 Isabelle Castilla and Josie Ramon.
Photo: CNN
In November, a video of a group of seventh-grade students at Royal Oak Middle School in Michigan loudly chanting "Build a wall!" in their school cafeteria went viral. Twelve-year-old Josie Ramon filmed the incident — which occurred the day after Donald Trump was elected president — then sent the video to her mother, who shared it with other parents, one of whom posted it to Facebook.
For the first time, Ramon and her best friend, Isabelle Castilla, have come forward to speak about the experience — and what happened afterward.
In an interview with CNN, they revealed that Castilla ran out of the cafeteria crying that day, which is what prompted Ramon to record the chant. "It was so hard, because these are my friends and I see them just saying these awful things," said Ramon, who cried throughout the interview. ""It was so hard to look and just watch and not being able to do anything because I was afraid … I was so scared."
Further, there was reportedly a major backlash against Ramon once the video blew up. "It was on Facebook and the parents' PTA group. People were pointing the finger and saying she should be expelled and she should be prosecuted for endangering children," Isabelle's mom, Rose Castilla, shared.
Ramon said she was shunned by students, too. "When I walked into the room, people would walk out of the room for some reason. People would see me in the hallways and turn around and walk the other way," she told CNN. "I felt like an animal." Ramon has since left Royal Oak Middle School and enrolled in a private school.
Shortly after the filmed incident, a noose was found in a bathroom at Royal Oak. Since then, some local mothers have formed the group Together for One Royal Oak, in which they are "working with the school district, encouraging a review of the curriculum, more diversity training, mentoring programs for teachers and students and diversity in district hiring practices."