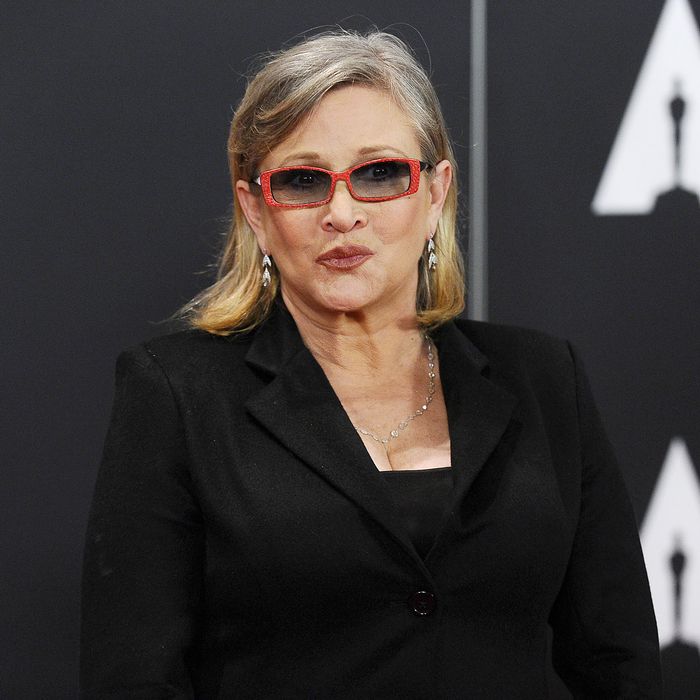 Carrie Fisher.
Photo: Jason LaVeris/FilmMagic/Getty Images
You don't have to be obsessed with Star Wars to care about Carrie Fisher, who died yesterday at age 60. A perpetual mistress of self-invention, Fisher consistently managed to transcend the role that made her famous, becoming an essential public figure on her own terms.
This has never been more evident than in the past year. As feminism became a Hollywood lingua franca and Star Wars took on a new life as a female-led franchise, Fisher cemented herself as one of the industry's most important elder stateswomen, a beacon to a new generation of actresses following in her footsteps.
While some would have shirked the publicity demands that came with Star Wars–reboot mania, Fisher embraced the chance to speak to her fans, taking to Twitter like a duck takes to water. In the past year, she was a beloved fixture on social media and late-night talk shows, where she regularly deployed her irreverent sense of humor to make trenchant observations about ageism, sexism, fame, and mental illness. Fisher always insisted on being the author of her own story, releasing two confessional memoirs — Wishful Drinking in 2008 and The Princess Diarist just this year — and she felt at home in the chaos of the news cycle, recently delighting fans with news of her long-buried affair with Harrison Ford. Losing her stung so badly because it seemed like she had so much more to share with us.
Fisher has spoken out about being pressured to lose weight for The Force Awakens (just as she was for A New Hope), deriding Hollywood's obsession with body image as "a stupid conversation." She has been a mentor to Star Wars' new vanguard of heroines, imploring Daisy Ridley not to "be a slave like I was" (not that she ever wore that mantle easily).
She has dismissed body-shamers and criticized Hollywood's emphasis on looks over substance. "Youth and beauty are not accomplishments. They're the temporary happy by-products of time and/or DNA. Don't hold your breath for either," Fisher wrote on her always-entertaining Twitter account. "My body hasn't aged as well as I have. Blow us." And: "My body is my brain bag, it hauls me around to those places and in front of faces where there's something to say or see."
She has consistently spoken out about her mental-health struggles and has been brazen about the realities of being an older actress. Asked whether she would have considered passing up The Force Awakens, she chided: "I'm a female working in show business, where, if you're famous, you have a career until you're 45, maybe. Maybe. And that's about 15 people."
As she got older, Fisher seemed to take on a newfound self-assuredness, a pleasure in being freed from the burdens of youth and being allowed to revel in the sharp mouth and brilliant mind that always were her most compelling features. In a new advice column for The Guardian, Fisher drew on her tumultuous life as a road map for others. It's hard to imagine many other celebrities writing with such empathy and insight. As she said in the inaugural column, "[H]ilariously — after all the drug addiction and celebration marriage and mental illness and divorce and shock treatment and heartbreak and motherhood and childhood and neighborhood and hood in general — I've turned out to be (at close to 70) a kind of happy person (go figure!)." Or, as she wrote in her 2008 book turned play, Wishful Drinking: "If my life wasn't funny, it would just be true, and that is unacceptable."
I'm not much of a Star Wars fan. But even if I had never met Princess Leia, I still would have fallen in love with Carrie Fisher. I fell in love with her on 30 Rock, where she gave one of the greatest cameos in a show packed full of them (and prompted Alec Baldwin's immortal line: "[N]ever go with a hippie to a second location."). I fell in love with her on Catastrophe, stealing every scene as Rob's crotchety, verbally abusive mother ("I did really want to play an awful person," she told Vulture. "There are not a lot of choices for women past 27. I don't wait by the phone."). I fell in love with her on countless late-night shows and red carpets, where she palled around with Gary the French bulldog and always said exactly what was on her mind. She seemed so joyful in these new roles, so at ease with her advancing age, a fighter who had been to hell and back and was more than happy to share what she had learned.
Today, many people are mourning Princess Leia, the bun-haired pinup girl of their childhoods. But for those of us who never felt at home in a galaxy far away, we mourn Carrie Fisher, grown-ass woman — a one-of-a-kind Hollywood icon who just kept getting better and better.