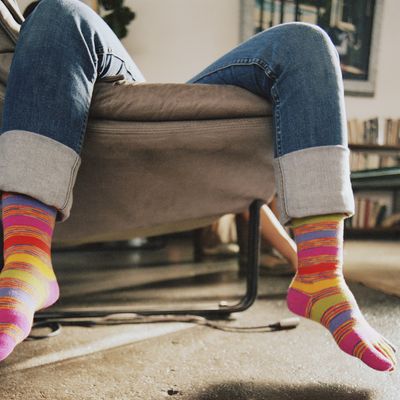 When you take a trip home, you're not really traveling, you think, so you don't need to pack everything. Home is a place where toothpaste is abundant, where — surely, you think — there are extra normal pairs of pants. And then, two days later, there you are, wearing a pastel cardigan from 2009 and your first boyfriend's camp shirt.
Let this be a reminder: If anything good were in your childhood closet, it would be where you live now. Your dresser is both a graveyard of your past selves and your only option. Your old bedroom closet isn't going to welcome you back, prodigal daughter style. Do you think that's a plain white T-shirt? Surprise, it has ruching below the tits and three tiny buttons down the center that serve no function. Do you think that's a pair of plain black sweatpants? What a jester you are. Those pants have sassy paw prints on the butt to honor your high-school mascot, the majestic panther. You might not notice those ass prints until after you've been in public all day. The retroactive humiliation is similar to realizing you've had your fly down, but it's worse.
As of this writing, I have been wearing a T-shirt from a bike trip down the coast of Florida over New Year's in 2014, a time when, as the T-shirt will tell you, I was "TWERKING [MY] WAY DOWN THE A1A." It's poison green and tie-dyed. The road to hell is memory lane, and it's paved with commemorative T-shirts.
What inspires joy is irrelevant. What fits, what's clean, what prevents you from going back upstairs to change — these are the things that matter. Recently, for example, I attempted to wear a pair of "contemporary" pants to dinner in my own home and was promptly sent back to my room to find a pair of slacks without a rip.
During the holidays, clothes tend to be approved by a committee. This committee is much more concerned about your body temperature than you are. If a grandmother suggests that you are going to be too cold in the movie theater, you are suddenly wearing your dad's zip-up fleece. Yesterday, I wore a rain hat.
And new clothes are coming in every day! It's the season of gifts, and you can demonstrate your gratitude in a pageant of sorts. If you really loved that striped cape that your mom got you on a work trip in Nepal, you would wear it to lunch. Those socks with snowflakes capped in delicate rhinestones? Ah, yes, try those on right away — they are darling. You're in random stuff from your childhood closet, whatever you ferried from your current mailing address, gifts from your relatives. Stylistically, you are who you were and also who you are now and also who your family thinks you might be. You are an outfit version of the Christmas Carol. People will tell you that you look great, and you don't know if they are just kind blind elders or if this is how they actually expect a youth to dress.
On a hike (outfit: my mom's exercise pants that have bell bottoms), my high-school best friend mentioned her astrologer, Chani, who just wrote: "Holidays are times when we can make quantum leaps in our healing process if we aren't afraid to revisit the oldest and youngest aspects of ourselves." Ah, yes. That's what we're all up to with our patchwork holiday fashions. Of course. I am making my quantum leaps in my blue Betsey Johnson dress from eighth-grade graduation and shit-kicker boots I wore on the train and a red cardigan with fabric buttons so that my grandma doesn't worry about my bare arms. If you think that goes together like pearl earrings and a nose ring, you're right.