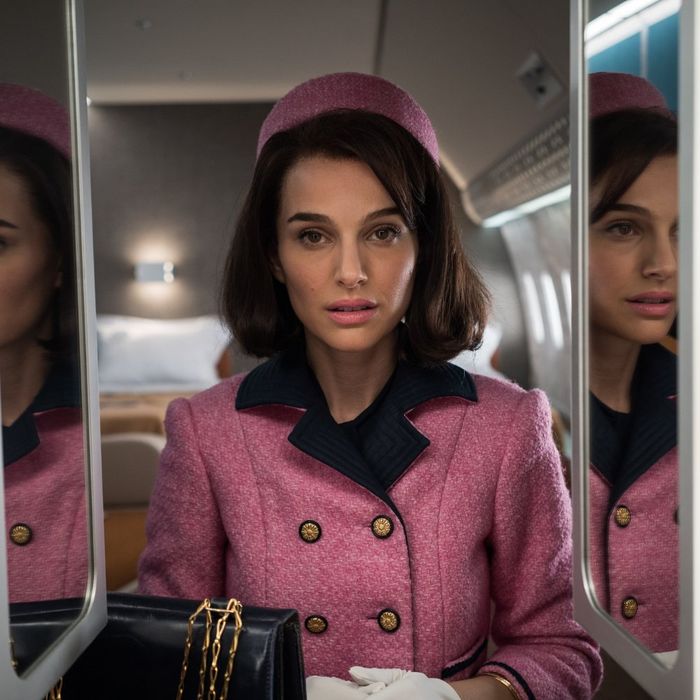 Natalie Portman in Jackie.
Photo: Courtesy of Fox Searchlight Pictures
Before Jackie Kennedy boarded Air Force One for Dallas on November 22, 1963, her husband, President John F. Kennedy, encouraged her to look perfect. "There are going to be all these rich, Republican women at that lunch … wearing mink coats and diamond bracelets," he reportedly said. "And you've got to look as marvelous as any of them. Be simple — show these Texans what good taste really is." That day, she famously chose her strawberry-pink Chanel suit and matching pillbox hat.
Hours later, after her husband died in her lap, his blood covering the suit, the First Lady marched in front of news cameras in the blood-soaked outfit, fully aware of the power of her own picture. She brushed off suggestions that she change, telling her aides, "Let them see what they've done."
Opening Friday, the new film Jackie, from director Pablo Larraín, stars Natalie Portman as the late Jackie Kennedy Onassis. The story follows the First Lady in the four brutal days after her husband's assassination, offering an intimate psychological portrait of a woman for whom aesthetics were both personal and political. "Jackie's fashion is one of the elements that we all know from her," Larraín told the Cut. "But that was just the door to get into her sensibility and experience throughout all these dark days."
To understand her fragile mental state during this time, screenwriter Noah Oppenheim dug deep into the Kennedy archive, studying books, magazine articles, and journalists' notes and interviews, and paid special attention to the letters Jackie wrote to priests. "There is a huge volume of material out there particularly now, in the last 10 to 15 years, that you can draw upon for inspiration, and guidance as to what her frame of mind was at different times," Oppenheim said. "She understood that images matter, pictures matter — and in the age of television in particular."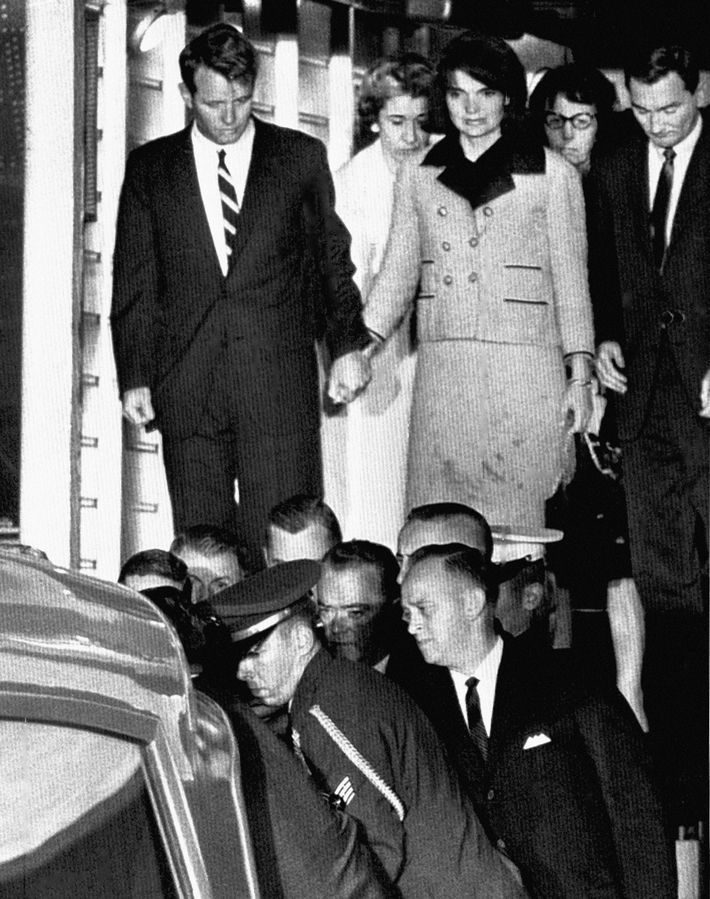 Although there is still some debate over whether the pink suit was truly Chanel or a perfect copy, the brand worked closely with the production team. And because costume designer Madeline Fontaine paid careful attention to the details of the original design, Chanel actually let the film use a Chanel label, original buttons, and trim for the dress.
"When they saw the fabric, the color, and the way we made it, they agreed to give us the buttons, so it was a real achievement," Fontaine said. "And now they would like one for their archives." (The original suit Jackie wore has never been cleaned and is stored out of sight in the National Archives.)
Natalie Portman, who wears the blood-soaked dress in the film, told the Cut even the copy was powerful. "It was really gruesome and intense," she said. "It was wild to imagine the unimaginable, which she lived through. She was basically wearing the evidence of what had happened."
Whether or not it was a conscious decision, Jackie Kennedy was instrumental in preserving her husband's memory through her attention to aesthetics. Just as she insisted that the cameras see her suit covered in blood, she designed a grand funeral for JFK (modeled after President Lincoln's) and marched solemnly to the Capitol in a dark lace veil.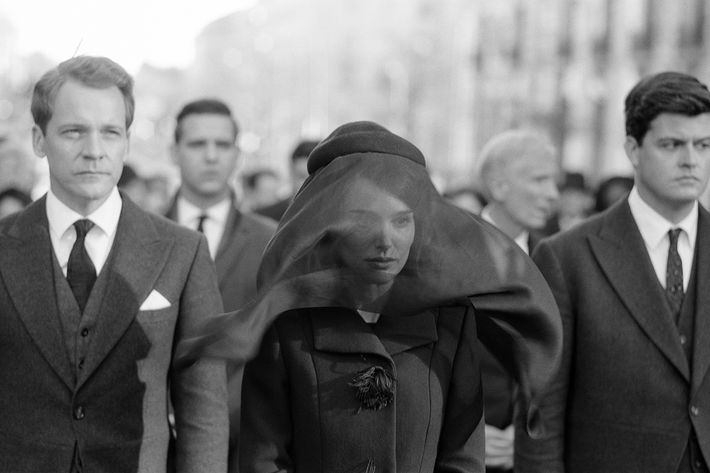 "Those four dark days were so violent, inward and absurd," director Pablo Larraín said. "She managed to make him a legend, and in doing so, she became an icon as well."