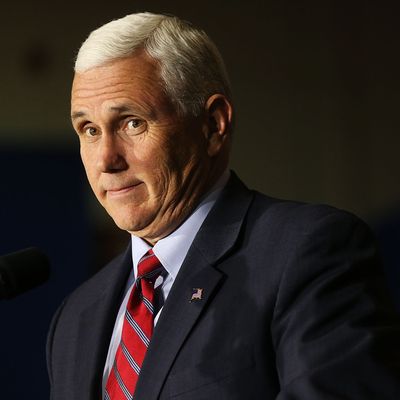 Mike Pence.
Photo: Spencer Platt/Getty Images
Planned Parenthood has received more than 315,000 donations since Donald Trump won the presidency — and more than 82,000 of those were made in the name of Indiana governor and noted uterine legislator Mike Pence.
The vice-president-elect, who has yet to prove that he understands how condoms work, is vehemently anti-abortion and has an abysmal record on women's health. He has also waged a long-standing war against Planned Parenthood. To show their support of the organization (and to piss Pence off at the same time), people have been donating to Planned Parenthood in his name since the election. Pence will get thank-you notes for each of the donations.
Based on data provided to the Cut by a spokesperson, 26 percent of the donations Planned Parenthood has received since the election have come from "Mike Pence." On November 30, that figure was 28 percent, or 72,000 out of more than 260,000 total, while on November 15, it was 12.5 percent, or 20,000 donations out of 160,000 total. It's so nice that, for once, Pence's name is being used to actually help women.
This post has been updated throughout.