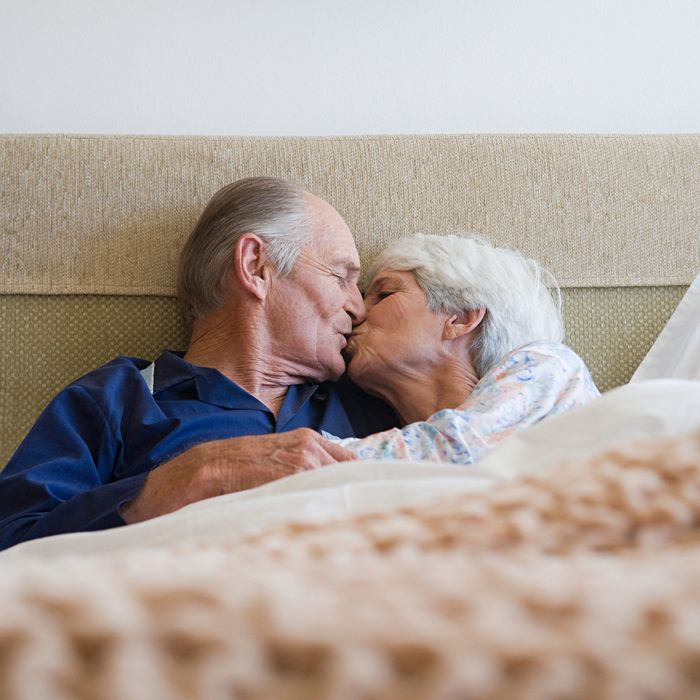 Photo: Image_Source_/Getty Images/Cultura RF
In lots of measurable ways, life gets better as you get older: Studies indicate that people get more agreeable and conscientious and trusting as they age, and having survived the ravages of time, they gain in wisdom, too. Especially, according to a new paper, in bed.
Published in the Journal of Sexual Research, a research team led by University of Minnesota postdoc Miri Forbes analyzed data on 6,000 people aged 20 to 93. The responses were survey questions completed by mail in 1995, 2003, and 2013.
As Forbes and her colleagues note in a new post about their research at the Conversation, people's outlook on sex shifted as they got older — caring more about the "thought and effort" put into sexuality, and less hung up on frequency of getting laid. That change in priorities was a big predictor of older people's sex-life satisfaction, they found.
"When we matched older and younger adults on key characteristics of their sex lives — along with socio-demographic characteristics, and mental and physical health — older adults actually had better sexual quality of life" than younger adults, the authors write.
This was especially true for people in long-term romantic relationships: Consistent with earlier studies showing that stability was related to being more adventurous and attentive to a partner, which is, as another sexuality researcher told Science of Us, the one true way to get better at sex. Forbes and her team call it "sexual wisdom."