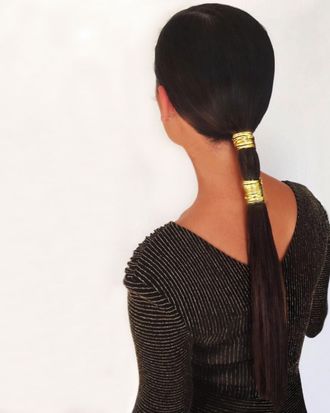 Photo: Courtesy of Instagram/chrisappleton1
Are you a hair dummy? It's okay, I am too. My hair really only has three styles: down, gym ponytail, and office-hair bun. But celebrity hairstylist Chris Appleton, who counts Kim Kardashian and Shay Mitchell as clients, taught me a new one that even I could master for this season's holiday/special-occasion dressing. The new ColorWow hair ambassador re-created for the Cut the sleek, gold ponytail style he recently did for Lea Michele. "It's an upgrade to the standard slicked ponytail we see so often," he said. "It's all about the details," and it's an actually simple hairstyle you can do on your own, he assured me. Here's how you get it.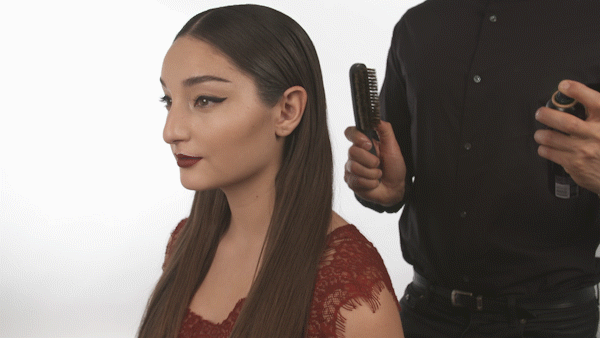 Step One: Spray a brush with hairspray and run it through the hair to smooth, in preparation for creating a low ponytail. Appleton prefers not to directly spray the hair with hairspray. "Spraying the brush gives the spray more of an even distribution and doesn't make the hair sticky," he said. He's using Kerastase Laque Couture Micro Mist Hold Hairspray.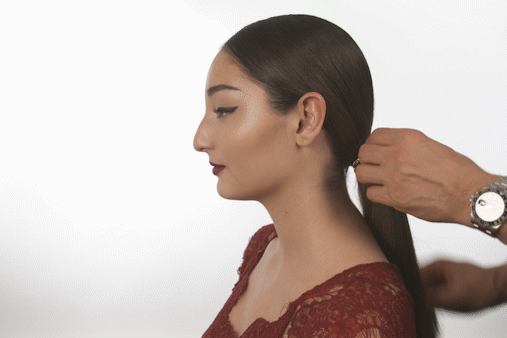 Step Two: Create a low ponytail, and secure the hair at the nape of the neck. But to make it a little more festive, consider using metallic or fancier hair elastics. Appleton found gold ones at H&M, but you can find similar ones on Amazon. Place the first fancy hair tie at the base, and then place another a few inches down. If your hair is thick, consider doubling up on the elastics for each one to create more of an impact.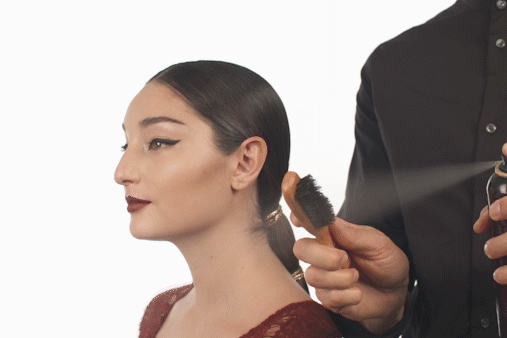 Step Three: To further differentiate this from a ponytail you might haphazardly do before Pilates, focus on keeping the hairline and front of the head as smooth and sleek-looking as possible. To do this, Appleton does more of the hairspray trick seen in Step One. He also takes a small amount of Color Wow's One Minute Transformation, a styling cream he calls a "flatiron in a bottle," into his hands and runs his palms over the top of the hair to smooth down flyaways. As a finishing touch, he heats up a curling iron (Harry Josh Pro Tools 2-in-1 Marcel Curling Iron) on low heat, and taps it over the head to further lock down stray hairs and add some shine.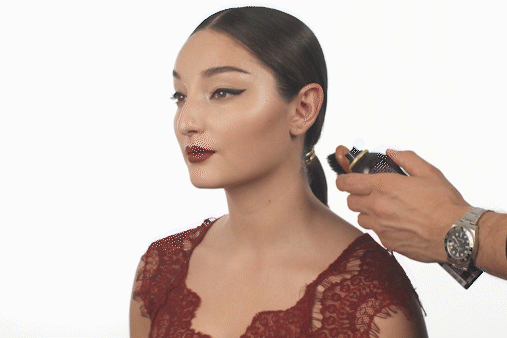 Step Four: Add as many rows of elastics as you think you need, keeping the ends of the ponytail free. And maybe think about adding a red lipstick, if you choose (in this case, Stila All Day Liquid Lipstick in Baci).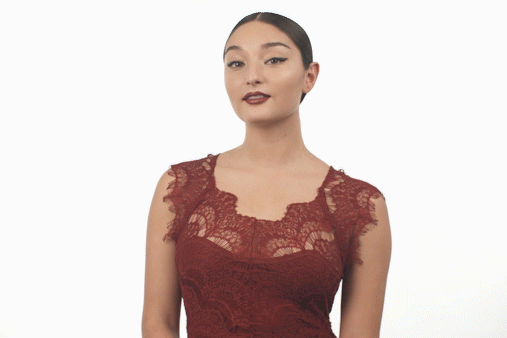 Step Five: The finished look.