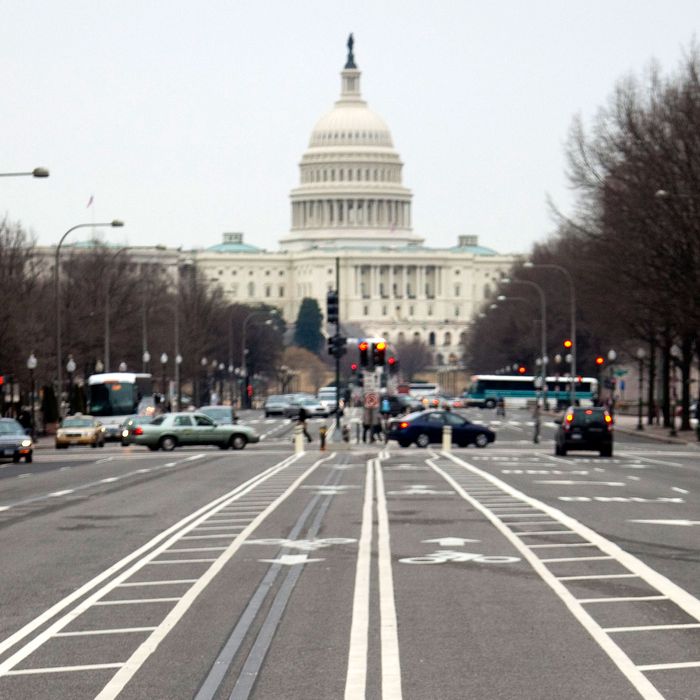 The march will be held near the U.S. Capitol.
Photo: Brooks Kraft/Corbis via Getty Images
The New York City chapter of the Women's March on Washington knows that not everyone can make it to D.C. easily for the January 21 event — particularly those of us who rely on public transportation. Thankfully, to make our lives a bit easier, the march has organized a "massive fleet of buses" to transport New Yorkers to the event.
Buses are set to pick up marchers in 56 different neighborhoods across the city and will follow 70 distinct routes for the daylong event. Tickets will run you $62 plus tax round trip, with each bus leaving early in the day to make it to the 10 a.m. march, and returning later that evening. People hoping to catch a ride on one of the buses should go here.
"It is our highest priority to ensure that this march is accessible for people from every demographic in New York," Karen Waltuch, the New York City chapter coordinator, said in a statement. "We hope that by providing routes in far-reaching neighborhoods, the diversity of our city can truly be represented at this historic gathering."
However, bus seats are limited, and Amtrak trains sold out two weeks after the march was announced, according to a statement. So, for those unable to catch the bus, a developer created marchmatch.org, a website pairing marches for carpooling and housing for the event.
There will also be sister marches in several cities across the country that may be more convenient for those living outside of D.C. or New York, including Boston, Los Angeles, Atlanta, and other metropolitan areas.
UPDATE 12/27 (5:45 p.m.): The New York City buses have sold out as of 5 p.m. on Tuesday, December 27, and the bus ticket page has been removed from womensmarchnyc.com to avoid confusion.