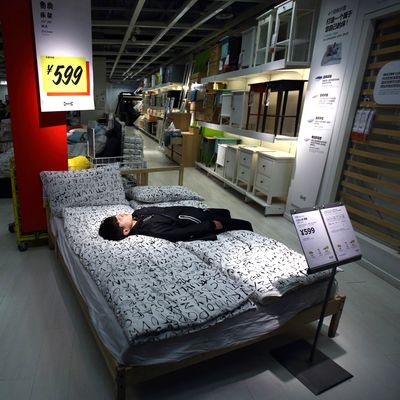 Sleeping at Ikea.
Photo: Tomohiro Ohsumi/Bloomberg via Getty Images
Teens these days are under a lot of stress: Their every move is recorded on social media, they're super busy heckling Trump offspring, and every single one of them applied to get into UCLA this year. Now, on top of all of that, Ikea is rudely asking teens to stop having illegal sleepovers in their stores.
In August, two cool Belgian teen YouTubers posted a video of themselves spending the night at Ikea (after hiding in a wardrobe for three hours to go undetected until the store closed). As the BBC reports, the video has had more than 1.7 million views, and inspired youths across the world to follow suit. At least ten other "non-sponsored sleepovers" (that Ikea knows of) have occurred globally since then, and instead of being chill about it, the DIY-furniture giant wants teens to cut it out.
"We appreciate that people are interested in Ikea and want to create fun experiences, however the safety and security of our co-workers and customers is our highest priority and that's why we do not allow sleepovers in our stores," a spokesperson for Ikea U.K. told the BBC.
Ugh, can Ikea just let teens live?