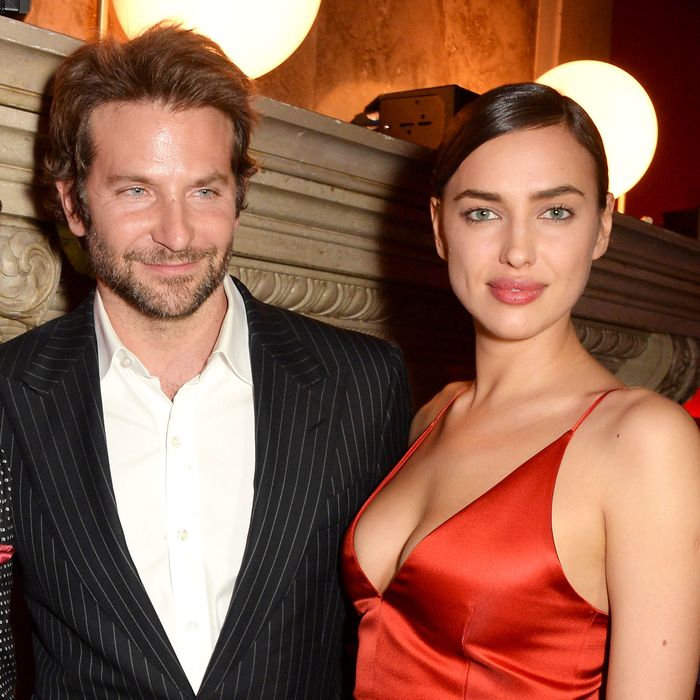 Bradley Cooper and Irina Shayk.
Photo: David M. Benett/Dave Benett/Getty Images For L'O
Last week, multiple outlets reported that Bradley Cooper's girlfriend, the Victoria's Secret model Irina Shayk, is pregnant. Yesterday, People followed up with a curious report suggesting that Cooper's Los Angeles mansion isn't ready for a baby. It is difficult to ascertain what, exactly, this report means — how dangerous can one man's bachelor pad be? — but the implication is that something could be amiss.
Though they have never publicly discussed their relationship, Cooper and Shayk have reportedly been dating for about a year and a half. As this helpful E! News timeline of their relationship indicates, they have been spotted together by paparazzi once a month, like clockwork. There has only been one small hint of trouble: At Wimbledon in July, Cooper and Shayk were caught on-camera maybe-definitely arguing about something. They must have patched things up pretty quickly, though, because E! News reports Shayk is about five months along.
So everything is great, right? The pregnancy news broke the same day as the Victoria's Secret Fashion Show, which gave Shayk some extra spotlight as fans tried to determine if they could see a baby bump underneath her complicated lingerie. And People reported yesterday that Cooper "seems more protective" of Shayk now that she's pregnant. "He has been spotted dropping her off at the airport with kisses as she is about to take off for another job," a source told the tabloid. "They are just a very sweet couple."
E! News, however, suggested Wednesday that Cooper and Shayk have not seen each other since the pregnancy news broke last week. Shayk "is more tired than usual," a source told the outlet. "She has been traveling a lot and hasn't had time to see Bradley but plans on seeing him very soon. They are in communication a few times a day. They are really happy and can't wait to have their baby." And then People followed up yesterday with the odd, aforementioned report titled "Bradley Cooper's Bachelor Pad Is Not Quite Baby Ready: Source."
The article is slight on details. People only reports that according to an unnamed source, Cooper's $4.7 million Pacific Palisades home "isn't exactly baby-proof" and that "the single-guy digs would reportedly need extensive renovations to be safe enough for a child." The article does not say what, in particular, makes Cooper's home unsafe. Sharp furniture? Knife collection? Indoor skate ramp? It almost seems as if the tabloid got a tip it could not confirm, so it ran this vague report instead. Cooper reportedly bought the home years ago when he was dating Renée Zellweger.
Cooper and Shayk do not seem outwardly worried about home improvements. Shayk has been traveling for modeling jobs, and Cooper has been spotted working out multiple times in the last week. If you know what Bradley Cooper's house looks like on the inside, let us know.