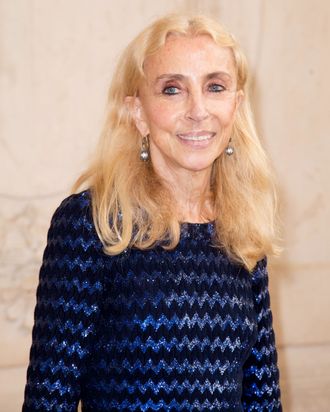 Franca Sozzani
Photo: Stephane Cardinale/Corbis/Getty Images
Sad news out of Milan today: Longtime Vogue Italia editor-in-chief Franca Sozzani has died at age 66, per WWD. Sozzani, who ran the magazine for almost three decades, was known for her work with photographers like Steven Meisel, Peter Lindbergh, and Bruce Weber. She also served in an Anna Wintour–like role as editorial director of Condé Nast Italy for 22 years. A documentary on her life, Franca: Chaos and Creation, directed by her son Francesco Carrozzini, premiered earlier this year.
Sozzani seemed less concerned with commerce than did many of her counterparts, and she allowed her creative collaborators unlimited artistic freedom. She was also eager to grapple with politics, for better or for worse. The editorials she worked on explored some hot-button issues, like plastic surgery and body image (notably, she cast a 2011 cover shoot with three plus-size models; meanwhile, a plus-size model has yet to appear on the cover of American Vogue). But the spreads often ran afoul of political correctness, at best, or earned accusations of racism and tone-deafness, at worst. For example: a shoot themed around oil spills, in the wake of the BP disaster; putting a model in blackface; an Iraq War–themed fashion shoot; and "Haute Mess," a notorious editorial that earned cries of racism and classism. She told the Cut in 2012 that she was committed to her headline-baiting ways: "You can just take pictures like in a catalog so you will never be controversial, but that's not my choice of life."
Sozzani also earned equal parts cheers and jeers for 2008's "Black Issue," which she said was intended as a riposte to the lack of diversity on the runways. A Guardian columnist's takeaway noted: "To be non-white is to be constantly relegated to a 'special issue', while the regular edition remains determinedly white." Jezebel's Dodai Stewart summed up the mixed reaction by calling it "both a success and a failure." Also, Vogue Italia's website has long maintained separate channels called Vogue Black and Vogue Curvy, a hamfisted attempt at inclusion that feels more like segregation.

To her credit, Sozzani was early to many of fashion's ongoing obsessions. In the '90s, she helped drive the supermodel phenomenon by including the models' names on covers and pushing them as personalities in their own right. And she was one of the first to pluck Kim Kardashian from Calabasas to high fashion, featuring her on the cover of L'Uomo Vogue in 2012.

Sozzani was a fashion lifer who began her career in magazines in 1976, starting at the children's title Vogue Bambini. She went on to work at the titles LEI and Per Lui before taking the helm at Vogue. She was a longtime supporter of young designers, founding Milan Fashion Week's Who Is on Next? initiative, which spotlighted young talent. And she was beloved by designers including Jean-Paul Gaultier, who dressed a model in tribute to her, complete with blond curls, in his final ready-to-wear show. Marc Jacobs and Giambattista Valli are among those who've posted paeans to her on Instagram, while Anna Wintour penned a Vogue.com tribute calling her "the hardest-working person I have known, and with an envy-inducing ease with multitasking." Based on the outpouring of tributes, her impact on Italian fashion, and the global fashion world at large, will be missed.