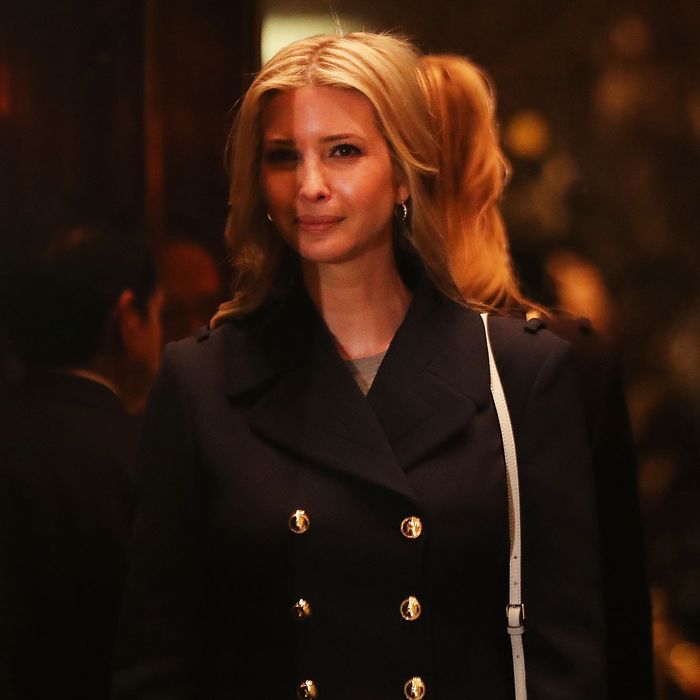 Ivanka Trump boards the elevator at Trump Tower.
Photo: Spencer Platt/Getty Images
Much has been made in recent days of the numerous potential conflicts of interest that Donald Trump might bring with him to the White House once he assumes the presidency. To assuage fears, the president-elect said last week he will separate himself from his business dealings in due time and promised a press conference with his children on December 15 to discuss the matter at length. Yet a new report by the New York Times reveals exactly why untangling himself from any conflict of interest seems elusive, given the dual role Trump's children play in his companies and on his transition team. And to highlight the murky, political waters that are already evident, the Times zeroes-in on Trump's meeting with Japan's prime minister, Shinzo Abe, which was also attended by Ivanka Trump.

At the same time that the three were meeting in Trump Tower, meetings were also under way in Japan to finalize business and licensing deals for Ivanka Trump's clothing and accessories line.

Representatives for Ivanka Trump's company told the Times that the business deal is two years in the making with the Japanese apparel company Sanei International. Both parties also confirmed to the Times that they are "nearing a licensing deal." But, if the thought of having Ivanka Trump sit in on a meeting with the prime minister of a country she's in the middle of business negotiations with already seems off, there's at least one more important detail to note. The largest shareholder of Sanei International's parent company is none other than the Development Bank of Japan, which, as pointed out in the Times, is owned by the Japanese government.

It's not known what, exactly, Donald Trump, Ivanka, and the prime minister discussed during their meeting, but it's the kind of scenario that raises plenty of ethical questions. Ivanka has already found herself on the receiving end of skepticism, boycotts, and overall backlash when it comes to her role as a businesswoman and her position on her father's transition team and overall inner circle. It hasn't gone unnoticed by Ivanka, either. Her company had to release a statement clarifying that it was still learning how to deal with the blurred lines after it sent a press release highlighting a bracelet Ivanka wore from her own line during that 60 Minutes interview. Her company has also taken steps to try to separate Ivanka from Ivanka Trump "the brand" on social media (an effort that might be a little too late). But, if the report from the Times highlights one thing, it's that avoiding any true conflict of interest for the Trump family is going to be no easy task.

Read the full story at the Times.