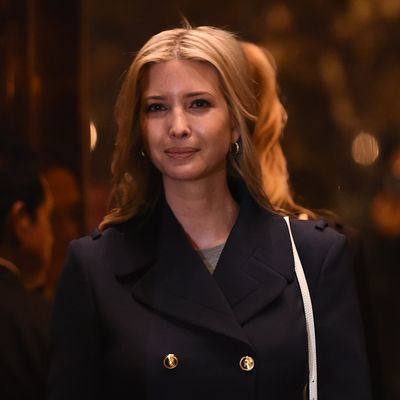 Photo: TIMOTHY A. CLARY/AFP/Getty Images
Ivanka Trump's stalker, Justin Massler, has once again been arrested. The Secret Service snagged Massler, who was charged in 2012 with aggravated harassment of Trump, just a block away from Trump Tower on November 29. Trump took out a restraining order against him in 2011. Among other alarming 2010 incidents, Massler threatened, "I will specifically kill myself at Ivanka Trump jewelry," and even bought $800 earrings from her own shop, then demanded that they be delivered to her. "Say here you go it's from some guy named Justin Massler who wrote you a kind of crazy seeming creepy stalkery letter along with it," he reportedly emailed her employees.
According to TMZ, Massler disappeared from a mental-health facility in Nevada last month, then appeared in New York City soon afterward. His brother put him up in a hotel room about a block away from Trump Tower; he was arrested at the hotel and taken to Bellevue Hospital, where he's still being held. Massler, who is still on probation from his 2012 misdemeanor, has not yet been charged.