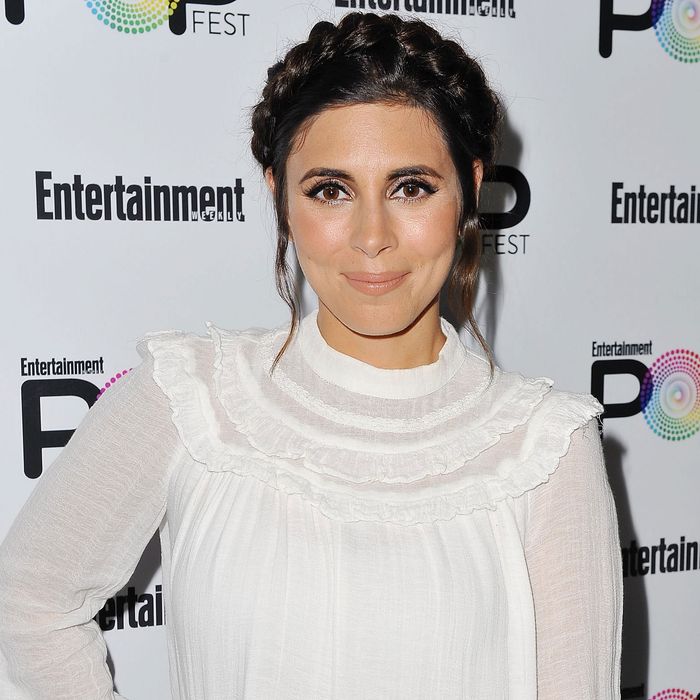 Jamie-Lynn Sigler.
Photo: Jerod Harris/WireImage
Jamie-Lynn Sigler is perhaps best known for her role as mob daughter Meadow Soprano on The Sopranos. But nowadays, Sigler finds herself juggling her acting roles and work as an advocate for multiple sclerosis awareness, with being a busy mom to her 3-year-old son, Beau. She's also just moved into a new home in Los Angeles, and is gearing up to host her first Christmas there. The Cut caught up with Sigler at the launch of NFL's Gift Guide at Rockefeller Center in New York to chat about wellness, the importance of "me" time, and what's on her wish list this year.
Wellness, to me: has a different definition, I think, than it would have had 20 years ago. Now, wellness means peace, tranquility, and calm, and being at the optimal level of just functioning. For me, a lot of that has to do with meditation. It's been a new practice I've introduced in my life over the past couple of years and it's just not only helped me physically, but mentally. Taking that edge off and centering myself makes me feel well.
How I start my mornings: My mornings tend to be a bit chaotic, because my wake-up call is a little boy screaming "Mommy!" to come in. So it's usually about getting him up, ready, and off to school. My husband usually takes the duty of dropping him off, and with that comes my "me" time before I set off on my day. That means doing a 20-minute meditation usually, and any sort of series of exercises or stretching – anything I can do to get my body up and moving so I can feel well and prepared for my day.
What I eat for breakfast: I usually have a protein shake or something that's really easy, quick and that I can put in one of those blender bottles. If I have more time I can use my Vitamix. I'll throw in some spirulina and some wild blueberries to get some extra nutrition. But I usually don't have nice breakfasts — it's always very on-the-go.
How I sweat: I can't do a lot of the things I would like to do, so for me, Pilates tends to be a good thing. The strengthening and the lengthening really works for my body. But sometimes I really miss being part of a workout class. Doing spin classes actually works for me, because if I sit in the back by a fan — so I don't overheat — and my feet are strapped into that bike, I can manage the type and intensity of class my body allows me to do. It really makes me feel like I got my heart rate going and I got to do a fun thing with my friends. There's always a spiritual journey, too, if you have a good instructor. So it always just feels really good and so for me, when I can, those are the things I like to do.
My best wellness hack: Definitely sleep, sleep, and more sleep. I opt out of a lot of things a lot of the time because my day was long and I know what I want to accomplish the next day. So if I push myself that night, it would be a lot harder for me.
My best wellness advice is: be kind to yourself. I had somebody recently tell me to stop and ask before I make a decision, "Am I being kind or am I being harmful to myself with this decision?" It could be anything, as insignificant as going out to dinner with your friends. Sometimes you don't have that choice, and I get that, but when you can, it's just been a really nice tool that I've had in my life that's allowed me to have a lot of freedom and really feel like I'm taking care of myself and putting me first sometimes.
My skin-care routine: It's really minimal. I've used Cetaphil face wash since high school from the drugstore. Also, Glossier — I love all their serums. And then Cetaphil moisturizer or sometimes Obagi is really good. My mother-in-law gets it for me every Christmas because she works in a cosmetic dentist's office and they sell it.
How I eat when I'm alone: I'm very rarely alone, and if I'm alone, I'm usually in a hotel room, which means I'm ordering room service and that I'm indulging. So when I eat alone it's probably more like a hearty soup and French fries. I try and eat healthy, but I'll always throw in something that I normally wouldn't cook or have at home.
On my holiday-gift wish list: Anything that could help me cook, like a Crock-Pot. The NFL actually has a really good team Crock-Pot. So for me, the convenience of throwing in a bunch of food in the morning and then having dinner ready with very little effort on my part is amazing. Any sort of gifts for my kitchen are really the go-to's for me. People know that I'm trying to become a better cook and learn more, so I appreciate that.
How wellness has changed for me: Since becoming a mom, it's been harder to find time just for me. I want to put my son first and he is the priority, but I also want my husband to feel like he's a priority and I also want my job to feel like it's a priority. Balancing all of that and really carving out time for me, whether it's just 30 minutes a day to close the door, be alone, take a bath, and watch Bravo. Whatever's going to get me some decompressing time is really important for my wellness.
On holiday stress: I'm super excited about the holidays because it means everybody's over, it means football's on, and it means we're in loungewear. Holidays for my family are not about dressing up; they're about comfort and food and putting your feet up. So for me there's nothing really stressful about it, but I try to be proactive about buying my gifts.
How I keep up with wellness on set: It's about management. I look at my body and myself as a gas tank, and everyday I have just enough energy. So I have to allocate that accordingly to what's going to need most of my energy and my attention, and little things like socializing at craft service and running around talking to everybody — those are luxuries I don't have anymore. Those are the times that I really will go back to my trailer and lie down to do my stretches or whatever it is. But it really allows me to do my job, and it doesn't feel like a chore to me; it's a necessity so that I can keep living my life the way I want.