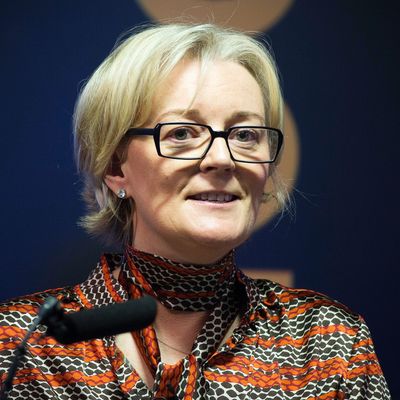 Jo Malone.
Photo: Bloomberg/Bloomberg via Getty Images
Jo Malone is not a $470 four-wick candle or a Lime, Basil, and Mandarin cologne. She is a living, breathing person who started her adventures as an 8-year-old facialist-in-training to an 80-year-old skin-care queen. After selling her fragrance business to the Estée Lauder Companies in 1999, she has a third act, a collection of crazy-good scents under a new name, Jo Loves.
Malone documents her path to early success in Jo Malone: My Story (Simon & Schuster, November 29), a remarkably speedy trip, though one with some significant bumps.
She mixed her first mask (slippery elm powder, yogurt, avocado oil, jojoba oil, vitamin E, lemon juice, and honey) when she was barely tall enough to reach the kitchen counter of her parents' government-subsidized apartment. By the time she was 10, she was cooking and jarring creams, ordering supplies, and paying the bills for her mother's small facial operation. She was so singularly focused on facials and so deprived of anything but the most basic food that the first time she saw someone eat an avocado, "I was horrified," she writes, thinking he had mistakenly consumed the ingredients for a mask. (She still smears mashed avocado on her skin when it's dry.)
It didn't take long before she was giving facials to a growing list of clients who included Sarah Ferguson, the Duchess of York. "She invited me to Buckingham Palace, and there I was, sitting on the floor having a cup of tea with Fergie while she made a list of 20 clients. That was the beginning of my business," Malone told me. Supermodels and celebrities soon filled her tiny salon.
But her real love, as anyone who's sprayed Lime Basil on her pulse points knows, is fragrance. Malone has the nose of a bloodhound, able to identify and combine notes instinctively, even as a child. She can smell a leak by detecting the odor of damp plaster; she can predict rain and snow as reliably as a meteorologist. When she started creating her own fragrances in 1991, she did something wholly original, magnifying the ingredients rather than some notion of sex or power or sexual power — the common themes at the time. In this way, she made fragrance accessible to people who could imagine the key notes just by reading the name on the bottle (nutmeg and ginger, grapefruit, orange blossom). Malone could also be credited with helping to ignite the current trend in unpretentious niche fragrances. "Master perfumers said, 'You have no idea how you've changed the fragrance world and influenced it without even realizing it,'" Malone said.
In 1999, Malone sold her business of 14 colognes, bath oils, lotions, and candles to the Estée Lauder Companies, a thrilling dream for any entrepreneur — and Jo Malone London quickly became a global phenomenon. No sooner had she popped the Champagne and bought herself diamond earrings than Malone discovered she had an aggressive form of breast cancer that required two long rounds of chemotherapy and a double mastectomy. She was 38 years old. As a side effect of the treatment, her sense of smell flagged, along with her passion for the business. At the opening of the Madison Avenue boutique, "I looked around and saw my name everywhere — on the signs, the gift bags, and the product — and felt weirdly detached, as if this was somebody else's life."
She decided to walk away, a difficult break for Malone and, from other accounts, for the Estée Lauder team, too. "Deep inside of me, I knew I was making a mistake," she told me. "I did underestimate the power of my connection to the brand. It had been my best friend, my teacher, my passion, and my one source of creativity."
Malone had a five-year non-compete clause — "the worst five years of my life" — and spent them fumbling around, sometimes in a state of panic over her absent creative mojo. She made ice cream. ("I went through a real beetroot phase," she says. "It was awful.") She helped conceive and host a BBC series, High Street Dreams, that sounds a bit like a friendly Shark Tank. And she paced her apartment like a "caged tiger."
During that time, she avoided even glancing at a Jo Malone London boutique from a taxi window. It was too upsetting. "I felt humbled and humiliated, because I did this to myself," she says.
Her second act was harder to engineer, partly because she had to engineer it. Things finally clicked when she took a beach walk in Parrot Cay, in the Turks and Caicos, and envisioned the scent of the pomelo fruit combined with ocean air, lemongrass, and a squeeze of lime. The result, Pomelo, is still her favorite of the new bunch. "I wash the house with it. I wash the dog with it. It goes in the bucket with the oil," she says.
Because Malone sold her name along with her business, she also had to come up with a new identity. During a brainstorming meeting, her 12-year-old son blurted out Jo Loves, an exuberant expression of positivity that stuck. And despite some missteps — including harsh red-and-black packaging that she eventually changed — she is back on that speedy path she knows so well.
The new Jo Love scents clearly come from the same brain that invented Jo Malone London. White Rose and Lemon Leaves is summery and sparkly, a fresh crowd-pleaser. Pink Vetiver is slightly peppery. Smoked Plum and Leather, masculine and gutsy, sprung from an experience Malone had while riding her horse in Montana and inhaling the scent of the leather saddle, the campfire smoke, and wild sage.
Malone likes to layer her fragrances, a technique she devised for her London boutique that she demonstrated on me. She sprayed my whole left arm with Pomelo, then skimmed over the path of the spray with a small, clean paintbrush to dry it. Next she squirted Pink Vetiver on the bristles of another paintbrush and stroked that over the Pomelo and on my neck. It was intimate and sensual, and it produced a deep, intricate fragrance.
Jo Loves colognes, lotions, cleansers, and candles are available online at Jo Loves and Net-a-Porter, and at her boutique in London at 42 Elizabeth Street.