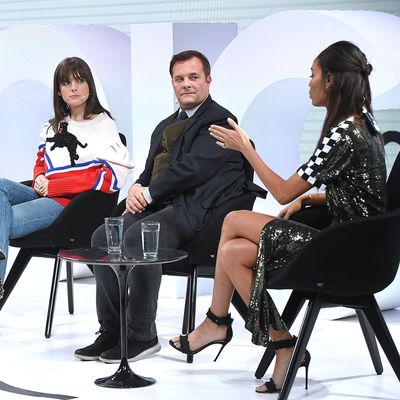 Tim Blanks, Hari Nef, Ivan Bart, and Joan Smalls at BoF Voices.
Photo: Samir Hussein/Getty Images for The Business of Fashion
Casting director James Scully, who has been a vocal critic of the fashion industry's discrimination, recently spoke out further about the racism and bullying he's witnessed behind the scenes. Last week at the BoF Voices event, Scully called out those who he said have "hijacked" the industry. As part of the same event, Tim Blanks hosted a panel about diversity in modeling, with models Joan Smalls and Hari Nef and IMG president Ivan Bart on the panel. (Nef and Smalls are both repped by IMG.) The conversation served as a thematic follow-up to Scully's speech, especially because both models were open about real-life examples of discrimination they've faced in their careers.

Smalls recently walked the Victoria's Secret show for the seventh time and has been a face of Estée Lauder since 2010. But, she said, "I've always had a struggle trying to get a hair campaign. It's mind-boggling. I've been on option, and they dropped me at the last minute. And the excuse was, 'We were afraid to try something new.' And by 'new,' they meant 'We've never shot a black girl.'" She also mentioned being selectively included in campaigns depending on what part of the world the images are headed to, as it's common practice for big brands to shoot different images for different regions. "For campaigns, it's like, 'Okay, Joan'll do this region, but in the group shot, Joan, you are excluded because you don't sell, you don't fit in that quota,'" she said. When she started out, she was often the only nonwhite model in a given show, but at the castings, she recalled, "I saw a lot of beautiful women that fit a different description. Why are they not here? Why are they not being represented? They are your consumer, so why not paint that beautiful picture?"
Nef, who is one of the most prominent transgender models working today, has experienced her own share of bias, even when she ends up being cast. "There's this subdivision of fashion bookings which also fetishizes diversity as an end. It's not like you can just be a model — you have to be a trans model, or a black model, or a Latina model. They kind of bring you in and it's like Diversity Day," she said, making air quotes. "Diversity Day is cool; Diversity Day essentially pays my bills. But it's never a blue-chip campaign. It's never a contract, or rarely a contract. Sometimes it's like a social-media thing. It never really bridges the gap between the hyper-rarefied space of a top booking and just throwing this nominal diversity in so the brand can say they did it." Watch the full, illuminating conversation below.