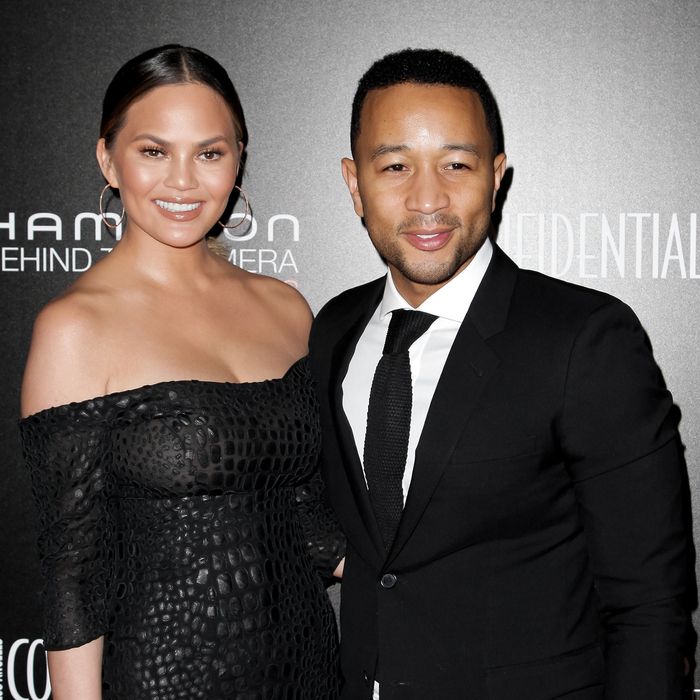 Chrissy Teigen and John Legend.
Photo: Tibrina Hobson/Getty Images
It's safe to say that John Legend knows a thing or two about romance — or at least the idea of it, given that the man has penned his fair share of love ballads. And given that he's married to Chrissy Teigen, one of the chillest models around (who doubles as a tamer of Twitter trolls), he might also be forgiven for letting his songs do most of the work in the romance department. But, to the disappointment of cynics, it is not so. In fact, Legend managed to one-up himself when it came to wooing Chrissy during one of their anniversaries by hiring a group of ballet dancers for a special performance. Roll your eyes if you must (haters), but it happened.
In an interview for the December issue of Elle, Legend revealed that Teigen doesn't necessarily expect him to be lovey-dovey all the time. "You know, Chrissy's kind of funny and cynical," he told Elle. "I don't think she ever expected me to be super-romantic and super-sappy all the time." And that's when he casually drops this: "But one of her favorites was when I hired ballet dancers to come and dance for us for our anniversary." Ah, yes — even the interviewer was shocked ("Wait, you had a ballet company come to your house?"). But Legend quickly clarified that a group of professional ballet dancers didn't show up to their home, they showed up to a hotel they were staying at in the Berkshires in western Massachusetts. And by the sounds of it, it was no easy task left to some unnamed assistant. "It took me a while to find somebody who would drive up from New York," he added. As to why he opted for a private ballet performance? "Chrissy loves the ballet. That's her secret dream — to be a ballet dancer." That — and the woman has likely had her fair share of serenades.