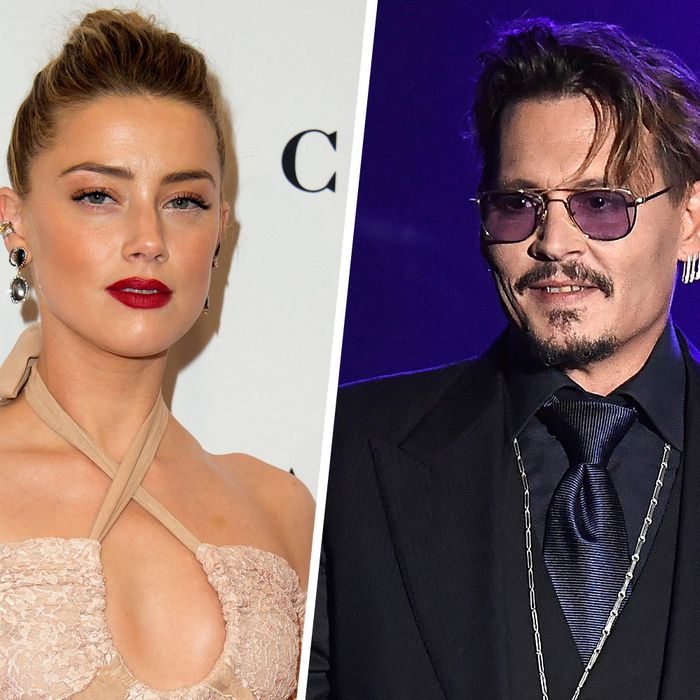 Amber Heard and Johnny Depp.
Photo: Getty Images
Just last week, news emerged that Amber Heard asked a court to order Johnny Depp to finally pay the remaining $6.8 million owed under their divorce settlement. Depp, in turn, is now demanding Heard pay $100,000 to cover the attorney's fees he incurred from that "entirely unnecessary" request, People reports.
Court documents obtained by People revealed that Depp has already accumulated $1 million in attorney's fees from the former couple's ongoing divorce proceedings. The new filing accuses Heard of acting "erratically" and "uncooperatively," and of violating their confidentially agreement "almost weekly." The confidentiality claim is presumably a reference to Heard's recent PSA on domestic violence and her letter in Porter about coming forward as a survivor, and not a victim, of assault.
If the request for attorney's fees is approved by the court, Heard will either have to pay $100,000 within ten days, or the amount would be deducted from her settlement, which she has vowed to donate to charity. In Heard's own request for order — asking that Depp finally pay the full settlement amount — the actress also asked that he cover her attorney fees, except her request was only for $35,435.