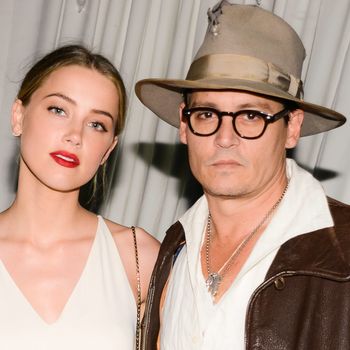 Johnny Depp and Amber Heard.
Photo: Madison McGaw/BFAnyc.com
Johnny Depp and Amber Heard have officially finalized their divorce, according to a typically petty pro-Depp report from TMZ. The gossip site announced this morning that Depp will pay Heard the remaining $6.8 million he owes her in installments over the next year, and Heard will donate the money as she receives it to Children's Hospital and the domestic-violence unit of the ACLU. So what's the problem? According to TMZ, "Sources not connected with Amber are scoffing, saying they don't think the charities will ever get the money."
Hmm, I wonder who those sources might be? Depp has repeatedly used TMZ to disparage Heard, and it seems like his team could not resist taking one last idiotic swipe at her as the divorce process comes to a close. The settlement took so long to finalize because Depp was refusing to pay Heard directly, but now TMZ is suggesting that was because he did not trust her to honor her charitable pledges. Okay.
Last week, Heard appeared in a domestic-violence PSA, which apparently annoyed Depp so much that he started this petty tabloid drama. The PSA reminded everyone, however, that he has been accused of much worse.