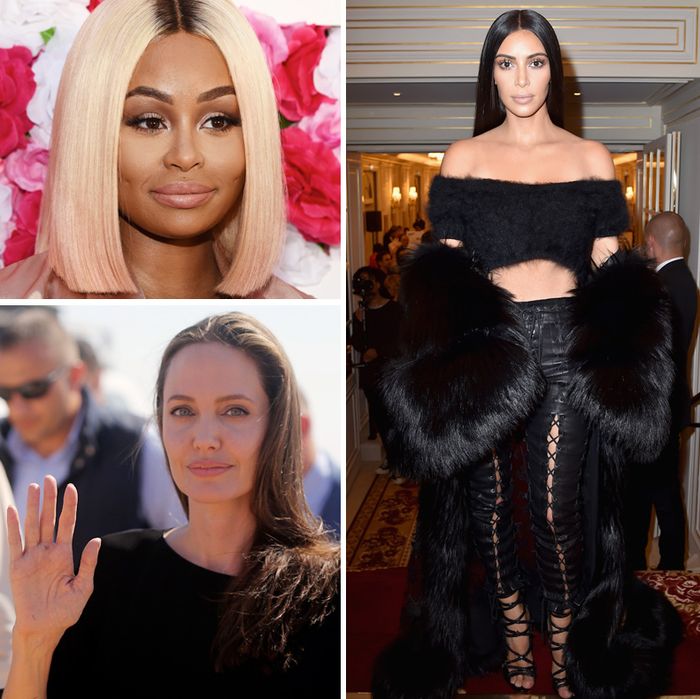 These celebrities took gossip to new heights this year.
Photo: Getty Images
This was a cursed year, marked by unremitting anxiety, which culminated in the election of a deranged celebrity to the presidency. Lucky for us, other deranged celebrities were around to distract us.
For the past 11 months, we have hurtled toward doom, but we still got to watch Lindsay Lohan develop a new accent, Orlando Bloom attempt water sports in the nude, and Prince Harry start dating that woman from Suits. Our personal relationships may have crumbled under pre- and post-election stress, but it was nice to see Ashley Olsen canoodle with two different quinquagenarians and Leo DiCaprio take another 24-year-old Victoria's Secret model to Ibiza.
A few stars even raised the stakes this year, aiming not just to distract but to create narratives that will change the celebrity-gossip landscape for years to come. By manipulating the press, their fans, and in some cases their own loved ones, these high-achieving celebs dominated news cycles and genuinely entertained us all. We thank these actresses, artists, and reality stars for their commitment to creating gossip.
The video vixen — formerly known as Angela White and soon-to-be known as Angela Kardashian — played the gossip game better than anybody else this year. She worked her magic on Instagram, where, in the dead of January, she posted a selfie featuring the unmistakable tattooed arm of Rob Kardashian. This shocked the tabloids, the public, and most of all, the Kardashians themselves. By posting the photo, Chyna signaled to the world that she had claimed the only male Kardashian for herself, which made things … complicated. In case you still do not know why: Chyna's ex-fiancé Tyga, with whom she shares a child, dates Rob's half-sister Kylie Jenner. The incestuousness of it all only seemed to propel Chyna; she got engaged to Rob and pregnant with his child in quick succession. Now she has her own reality show with Rob, and she is the mother of a baby Kardashian girl she literally named Dream.
Swift has made a career out of gossip in that she writes barely coded songs about the celebrity men she dates. She took her media manipulation to a new level this summer, however, on a rocky beach in Rhode Island. Just two weeks after breaking up with Calvin Harris (a Scottish DJ), she made out with Tom Hiddleston (a British actor) on a private R.I. beach that just so happened to be populated by paparazzi. Why? Love, of course, and also timing: The make-out photos conveniently dropped right before Kim Kardashian called Swift a liar in GQ. The photos dominated the news cycle and distracted from Kardashian's claims. Swift and Hiddleston broke up three months later.
The most successful reality star on the planet outgunned Taylor Swift in the end. After accusing Swift of lying in GQ, Kardashian waited one whole month before releasing some evidence on Snapchat. The controversy, in a nutshell: Swift told the public she was offended by Kanye West's line about her in his song "Famous," but Kardashian released video of Swift responding positively to the line on a private phone call with West. Dozens of other celebrities took sides in the feud, which led to several smaller, entertaining feuds. Lainey Gossip called the day of Kardashian's Snapchat release "Gossip Christmas." With her expert use of social media, Kardashian cracked Swift's innocent, girl-power image once and for all, and that was good for gossip.
Jolie blew "Gossip Christmas" out of the water when she filed for divorce from her longtime partner, Brad Pitt, in September. She went to TMZ with the announcement, not People or any other legacy magazine, which proves she knows how gossip media works now better than any other celebrity. Jolie then exacted a calculated and punishing PR attack against Pitt, which allowed her to take (temporary) custody of the couple's six children. Pitt is still trying to figure out how to negotiate with her. Though the divorce narrative has been bleak at times, Jolie has controlled it throughout.
Leave it to Mariah Carey to make gossip fun in 2016. In the course of one year, she got engaged to billionaire businessman James Packer, spent "too much" of his money (allegedly), broke off the engagement, and demanded a $50 million settlement for emotional distress. Then she added Scientology to the mix, alleging through sources that the religion "poisoned" the relationship (Packer once belonged to the church, and his business manager is a high-ranking member). Oh, and she filmed everything for reality show, one that will now chronicle her new relationship with one of her backup dancers. Mariah's World, indeed.