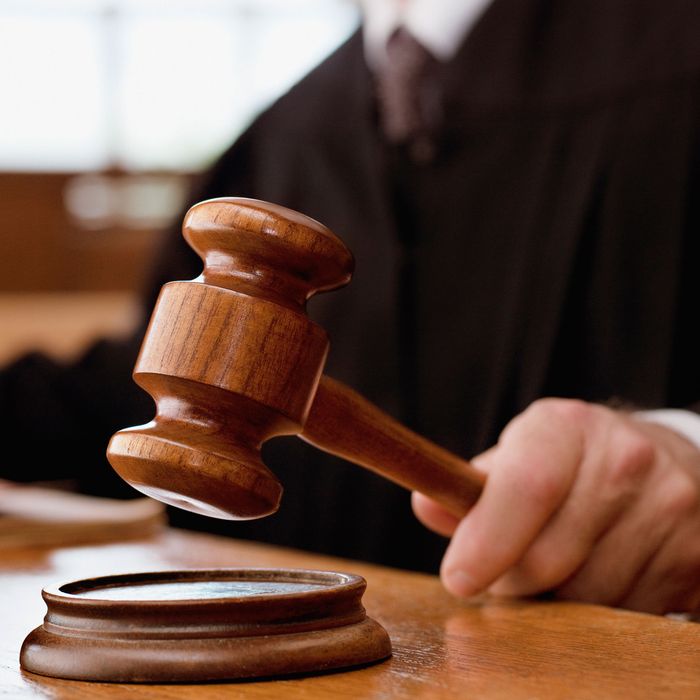 Judge Jeffrey Fraser sentenced "pickup artist" Alex Smith to eight years in prison.
Photo: Chris Ryan/Getty Images
"This is not a hard decision at all," San Diego Superior Court Judge Jeffrey Fraser said as he sentenced Alex Smith, a so-called "pickup artist" who gang-raped a woman in 2013, to eight years in prison. "In fact, if I could give you more time I would." Fraser, who announced his ruling on Friday, was barred by California law from extending Smith's sentence. But he made it clear that he saw Smith and his ilk as "an absolute danger to women in this community."
At the time of the rape, Smith was working for Efficient Pickup, a company that professes to teach men foolproof methods to sleep with women within minutes of meeting them, according to the Daily Beast. He and a colleague, Jonas Dick, entered a bar in San Diego at 2 a.m. where the victim and her friend had been drinking. The two women were then taken to an apartment where a third man, Jason Berlin, was waiting — Berlin was a "student" of Efficient Pickup.
According to court documents, Smith took the victim, who had vomited and passed out, into a separate room and began raping her. He called Berlin to join, which he did. When the victim's friend entered the room, Smith and Berlin told her, "We just tag-teamed your friend," before throwing both women out of the apartment.
The victim called the police and filed a report that night, but officers did little to investigate her claims. She did most of the investigative work herself, digging up Smith, Berlin, and Dick's internet profiles and reading their accounts of her own rape online. She took the information to the police, who used it to find Smith guilty of raping an unconscious person and raping an intoxicated person.
In his ruling, Fraser called her detective work "amazing." "But for the victim in this case, you would have gone about your life," he said. "There, in all likelihood, would have been other victims." He went on:
"The fact is, the defendant did treat the victim in this case not as a human being but as simply an object. And I've got to tell you, having sat up here for 18 years, there's a lot of people that have sat in that chair and I can't recall—murderers, rapists, kidnappers—go down the list, I don't know if I've seen one that has been as mean and cruel as you have been.

"You had your own language, you had your own apartment, you had your own school. That is the only thing that you could say about your school. It was about being a rapist. I wish we could take your photo, I wish we could place it on the pickup artist's website to let other men out there know that this is completely, completely unacceptable conduct, it's not funny, it's criminal, and you suffer consequences when you do this."