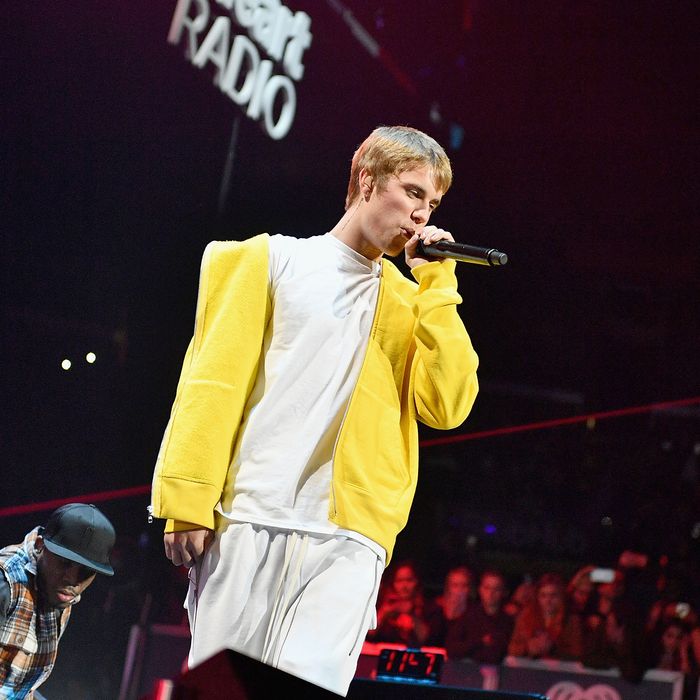 Justin Bieber performs at the KIIS FM's Jingle Ball 2016.
Photo: Mike Windle/Getty Images for iHeartMedia
Given that Justin Bieber is, well, Justin Bieber, it's difficult to imagine a scenario in which photos of whomever he is dating aren't eventually splashed across tabloid pages. And while it might be difficult to avoid any relationship rumors involving the Biebs, that didn't stop him from making one announcement that might cause the paparazzi to take a breather (or become more hypervigilant, your call). Justin Bieber, he would like it to be known, is, for all intents and purposes, currently single. And no, he's not looking, thank you very much.
Bieber made his PSA on the latest episode of The Ellen DeGeneres Show, which airs on Monday. DeGeneres, ever the not-subtle relationship sleuth, asked Bieber point-blank whether he's seeing anyone. To which the Biebs, without skipping a beat, merely replied: "I am not dating anybody. Single. I'm not really looking either." That screeching sound you hear in the back is the sound of the freeze-frame happening on the skeptical looks of Bieb's former flames. But the loud squeal you also hear is the utter glee of Bieber's fans. Because, as any true Belieber might argue — who is ever truly "looking" for love?

Not Bieber, for sure!