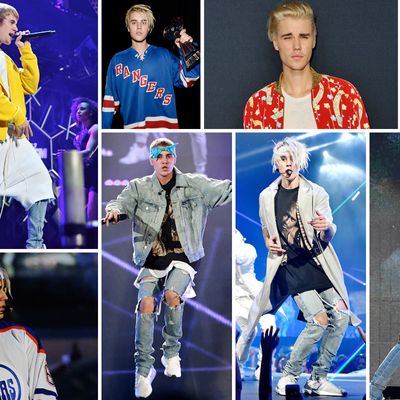 Depending on how you slice it, 2016 could have been the worst or the best year of Justin Bieber's life. On one hand, his album Purpose became the best-selling record of his career. On the other hand, his ex Selena Gomez called him out in the comments of his Instagram about flaunting his 17-year-old girlfriend, whom he split with only weeks later. He had some good hair moments (a platinum buzz cut) and some truly horrible ones (stringy platinum dreads). On more than one occasion, he wore gym shorts over his jeans. 2016 was the year Bieber was more publicly naked than in years before — butt, peen, drenched skivvies on a wakeboard — but when clothed, he dressed like a Magic Eye of hockey-rink street style.
But no matter how rocky things were, or how many junkyard tattoos he got, Bieber stayed committed to loving himself. Who is himself? A 22-year-old fashion vanguard who dances as well as he sings and who got caught up with a young woman whose name is — impossibly — Bronte Blampied. Bieber's high jinks this year have greatly outperformed any year in the Canadian enfant terrible's life, and that's saying a lot considering he wrote "Hopefully she would have been a belieber" in the guestbook at Anne Frank's house. Follow along for our boy's best capers this year, sartorial missteps included.
January 7, 2016
Bieber starts the year off strong by pulling his pants down and throwing beer cans at ancient Mayan ruins in Tulum.
February 15, 2016
He attends the Grammy Awards with his younger brother, Jaxon, where the younger Bieber appears to have the worst time of his life. Ankle boots officially lose caché.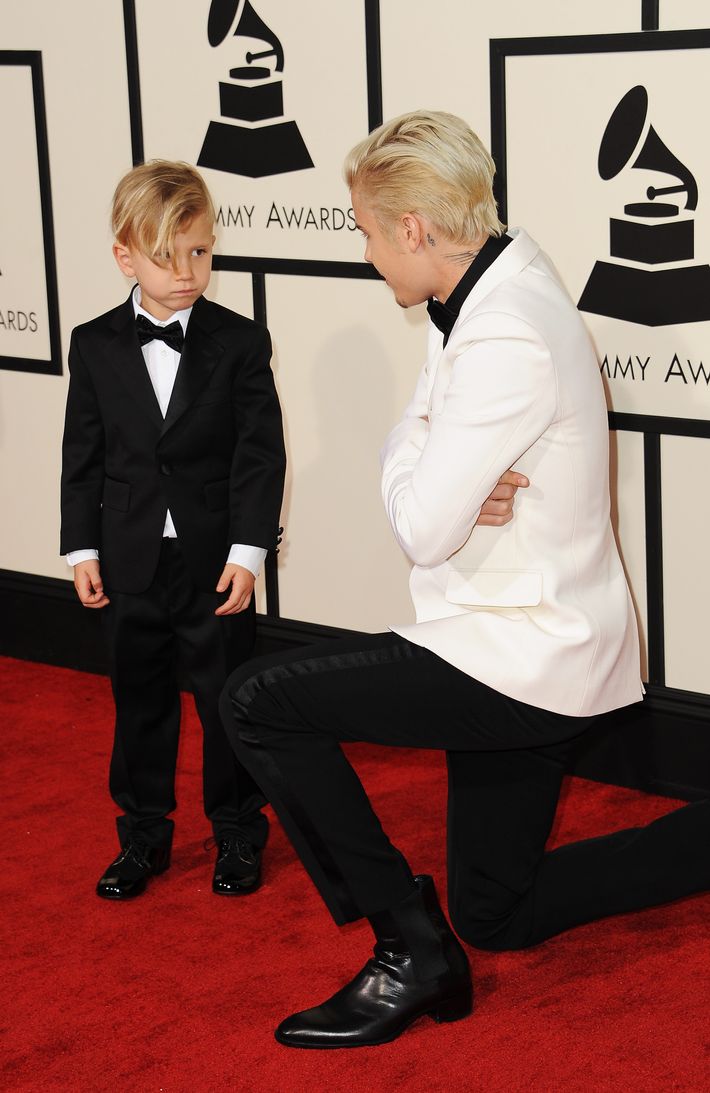 March 20, 2016
He debuts a new ready-to-wear look.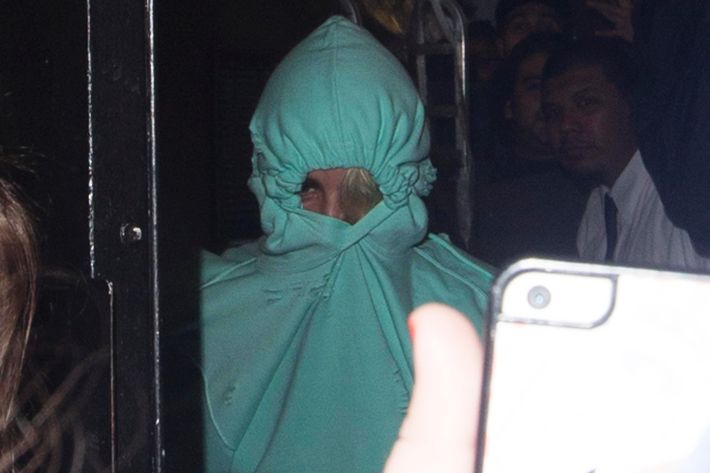 May 5, 2016
He writes on a giant pencil with another giant pencil.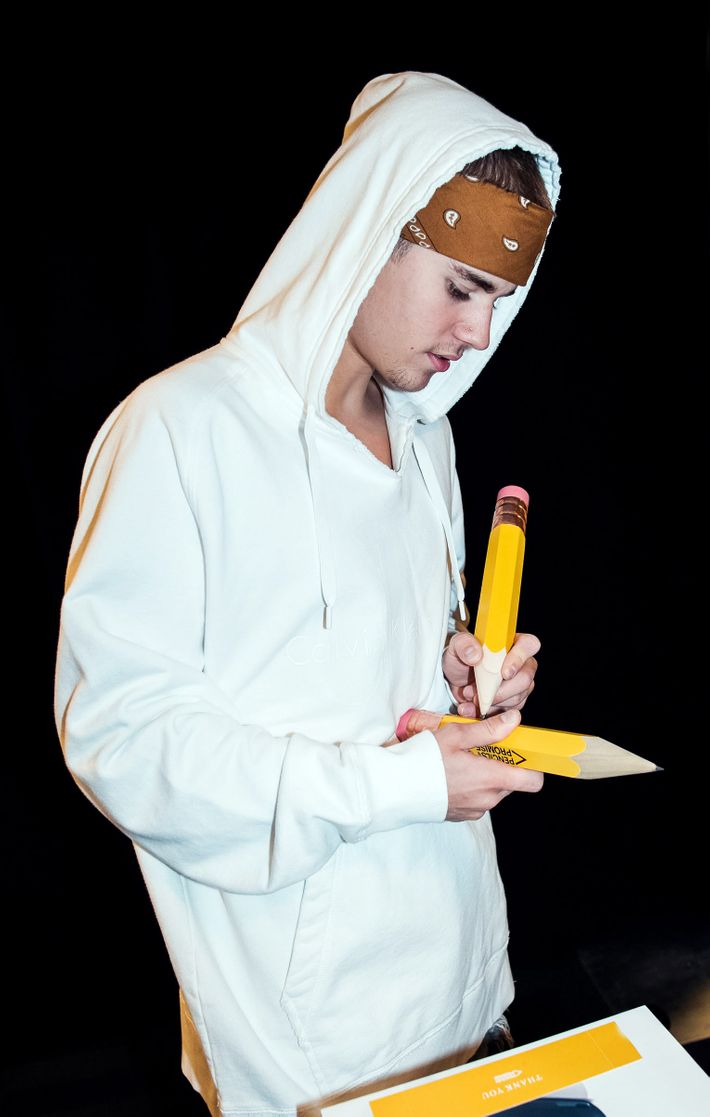 May 6, 2016
Despite saying that he wouldn't consider it until he was in his "40s or 50s," Bieber gets a face tattoo. Can you guess what of? A tiny little cross. God bless.
May 7, 2016
At a concert in Philadelphia, he is moved to tears by the power of his own song, "Purpose," which is about Bieber's relationship with Jesus Christ. The cross tattoo on his face is moistened.

May 9, 2016
He attempts to blend in with the Boston locals by doing as they do: strolling through a city park barefoot to feed squirrels.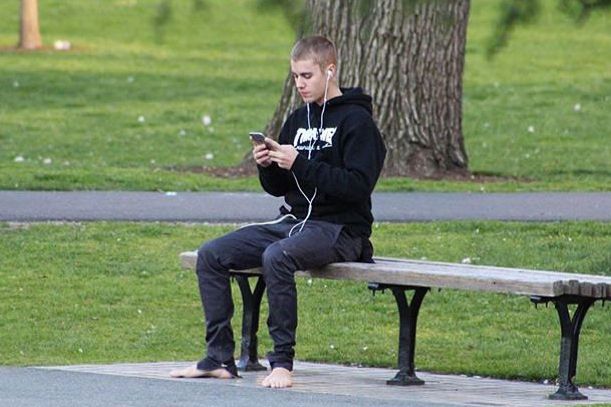 May 23, 2016
On Instagram, he realizes that award shows are a charade, writing, "There's an authenticity missing that I crave! And I wonder does anybody else." It won't be long before Bieber deletes his Instagram account entirely, but he does not stop attending award shows.

June 8, 2016
Another fistfight, another city. This time, Bieber is caught in a skirmish in Cleveland with a much bigger man. Bieber, against his better (?) judgment, throws the first punch.

June 3, 2016
He proves his athletic skill as he wakeboards in only a pair of Calvin Klein underwear and an unclasped life jacket.
July 4, 2016
The ghost of Jerry Garcia visits him while he boards a yacht in Miami.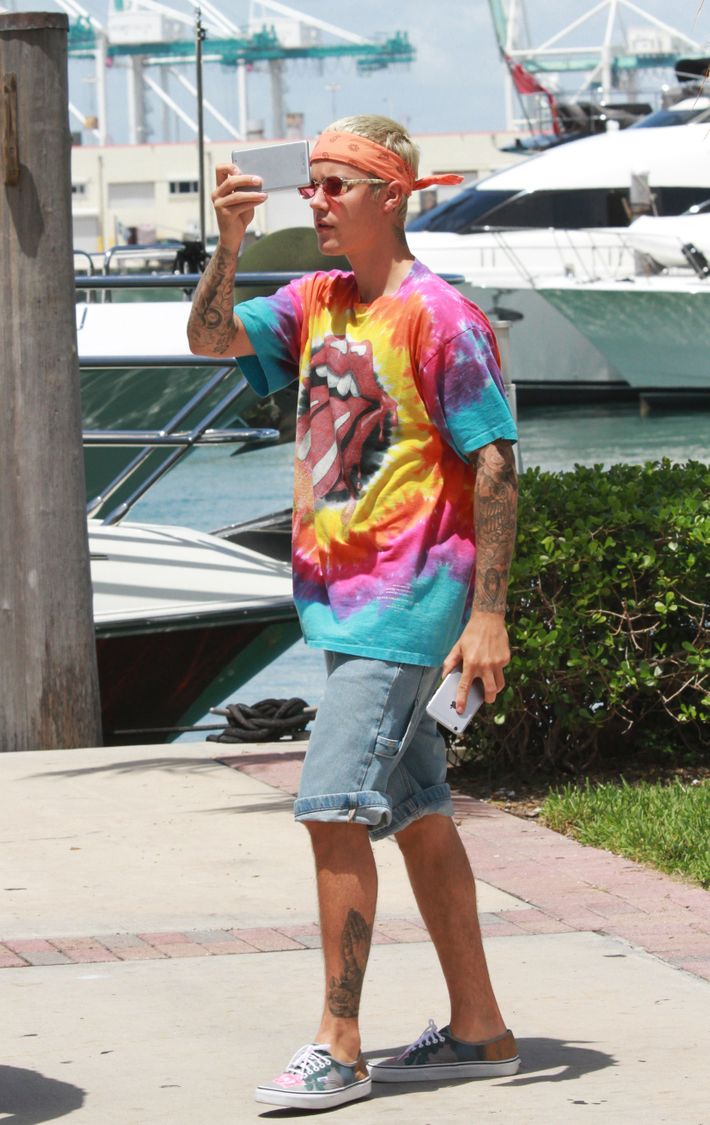 July 17, 2016
He becomes the last remaining person in New York to play Pokémon Go.
July 18, 2016
As god intended, Justin rents out an entire movie theater in New York City to screen the critically acclaimed children's film, The Secret Life of Pets, for him and ten of his closest friends. He does not make clear if he liked or disliked the movie.
July 29, 2016
Bieber is reportedly offered $5 million to perform at an "apolitical event" in Cleveland during the Republican National Convention. He is terrifyingly close to accepting when LeBron James steps in and talks some sense into him.
August 5, 2016
Full-frontal nude photos of Bieber vacationing in Australia "surface" only two days after Orlando Bloom's vacationing nudes are published. In our wildest dreams, we could not even attempt to concoct a dumber feud. This occurs during a period of good hair for Justin. It does not last long.
August 6, 2016
For the second time, Justin's dad, Jeremy, celebrates his boy's penis size with suggestive Instagram posts. The world collectively sucks its teeth and covers its eyes.
August 16, 2016
A dark day. Justin Bieber deletes his Instagram account after sparring with Selena Gomez in the comments about alleged infidelity in their relationship. He signs one comment to Gomez "all love." It is clearly not all love.
September 1, 2016
The Daily Mail reports that Bieber's credit card is declined at a California Subway sandwich shop, where he was attempting to purchase four bottles of milk alongside lunch for himself and his then-girlfriend, Sophia Richie. In a modern-day miracle, a fan comes to the rescue.
September 9, 2016
He does some sightseeing in Paris with his dad, Jeremy.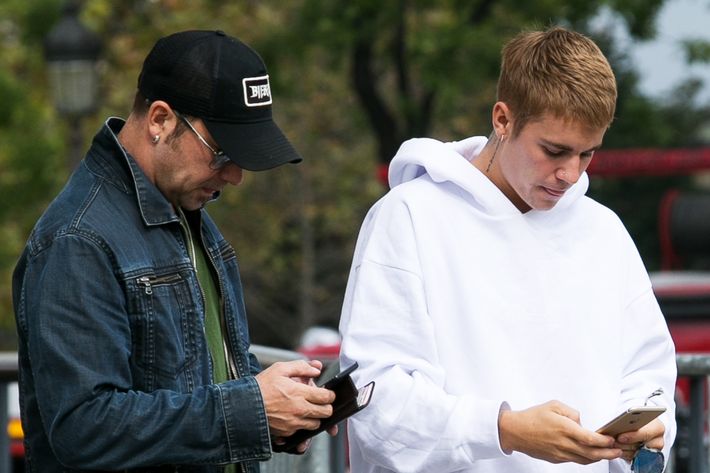 September 16, 2016
Bieber's security guard frantically waves his arms about to protect the young singer from being attacked by a wasp, which forces many people to wonder if his security team is getting paid enough.
September 21, 2016
I'm not really sure how to describe what is happening here.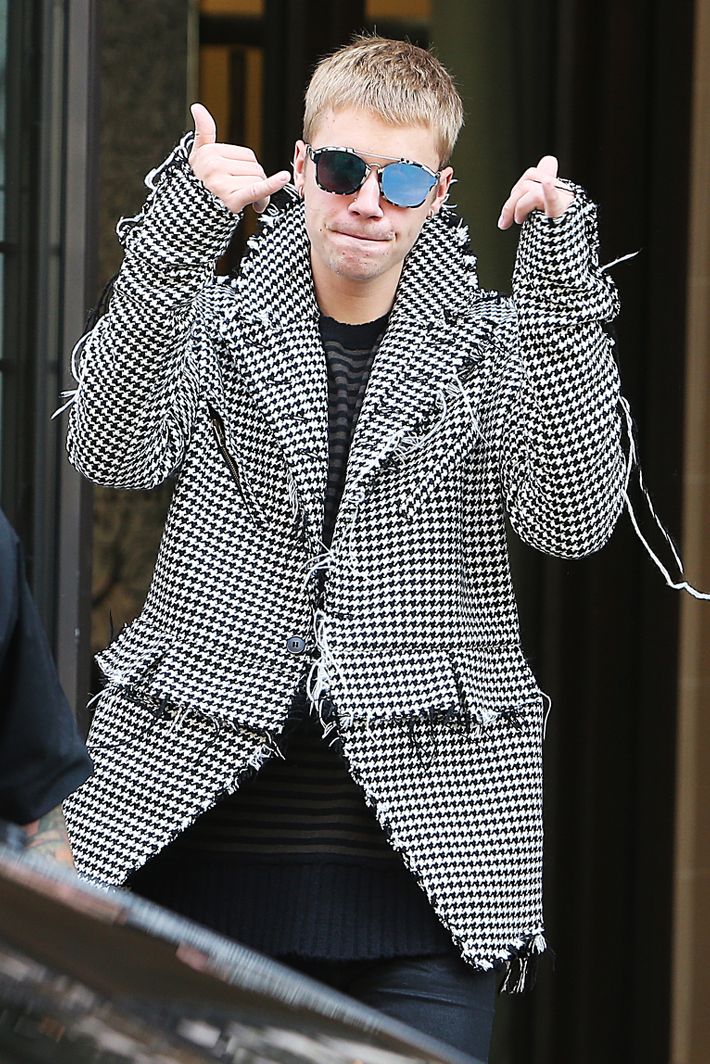 November 1, 2016
It can still be hard to remember that Bieber is of legal drinking age, but at a bar in Toronto, he gets behind a piano, unprompted, to prove his singing chops. He fumbles through a rendition of "Let It Be," and the crowd fakes bemusement while they stir their drinks. It is a nice time for all, and the bar waives his tab.
November 22, 2016
In what becomes the latest in a string of physical dustups in his short life, Bieber throws a punch at a fan in Barcelona after the fan attempts to grab him in a passing car. The man bleeds from the mouth. Bieber does not apologize.
November 29, 2016
Justin declares that Instagram is for the devil. "I think hell is Instagram. I'm like 90 percent sure," he said. "We get sent to hell and we get locked in the Instagram server. I'm stuck in the DMs. I'm trying to climb my way out and I can't."
December 4, 2016
After a sweaty boxing session, Bieber tells a group of paparazzi crowding him that he is just a "super-normal" guy. He is whisked away in an SUV with tinted windows.
December 5, 2016
Bieber, who is only 22 years old, appears on Ellen for the 26th time. Let that sink in for a second. He maintains that he is single and not looking for romance, then announces a U.S. stadium tour, which seems like it will ultimately be detrimental to his emotional health. The audience cheers as if they have seen God and God is wearing knee-high compression socks with gym shorts.
December 6, 2016
Bieber is nominated for four Grammy Awards, including Album of the Year for Purpose. Haters are stunned into silence.