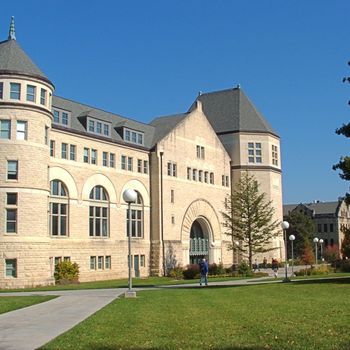 Kansas State University.
Photo: Kevin Zollman/Flickr
Last week, Kansas State University was hit with a lawsuit by two female students for allegedly refusing to investigate an incident of a man raping one woman, which enabled him to later rape another. Now, the university's student newspaper, the Collegian, revealed it sought records of Kansas State's internal sexual-assault investigations in the fall, but the school stalled and tried to charge an excessive amount for what was essentially a list of dates.
The Collegian filed on September 20 a Kansas Open Records Act request for records on the college's Office of Institutional Equity's sexual-assault investigations between May 2012 and August 2016. The request included "the specific date each investigation began and when the investigation was closed or if it remains open," as well as information on the subjects' relationships to the university. The university initially denied the request on September 28 under the Family Educational Rights and Privacy Act, and the newspaper filed an amended request on October 6.
However, on November 4, the university told the newspaper that it would release the records for $1,375. That fee, the Collegian noted, is higher than its weekly payroll and "more than double the combined cost of two similar requests" filed by the University of Kansas's student newspaper, the University Daily Kansan. The two newspapers had been collaborating on investigations about campus sexual assaults, as both schools have faced Title IX lawsuits, according to the Collegian.
The report comes shortly after the two female students filed a lawsuit against Kansas State on November 30 for allegedly refusing to investigate a rape incident. A third student requested to join the lawsuit later that day, claiming she was also raped by one of the alleged rapists that the university refused to investigate. Kansas State has denied any wrongdoing, called reports in the media inaccurate, and said that "blanket statements that K-State does not investigate incidents that happen off-campus are simply not true."
Yet, new evidence and testimonies from a BuzzFeed News report on December 2 pointed out that Kansas State's controversial policy against investigating "off-campus" sexual assaults had long been questionable. Danielle Dempsey-Swopes, who was hired as a senior investigator at Kansas State University in 2015, claimed that within seven days of being on the job, she realized, "It was the university's position that we were not to investigate complaints [of sexual assault] that take place at fraternities or sororities."