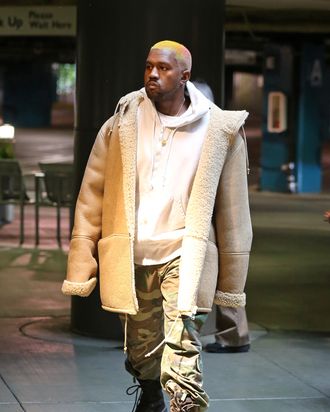 Kanye West.
Photo: Clint Brewer / Splash News/Clint Brewer / Splash News
We don't know what kind of gifts Kanye West may have given Kim Kardashian over the Christmas and holiday weekend (or vice versa!). But it does seem that Kanye has gifted himself at least one small thing for the holiday: a new hair color. Or two. Or perhaps three shades (depending on how you look at it). Kanye was spotted leaving a movie theater alone on Monday in Santa Monica, California, sporting a new look, featuring a dash of pink and a shade of gold, in addition to a platinum color.
Earlier this month, Kanye dyed his hair blonde after being hospitalized for exhaustion and following his bizarre rants and behavior while on tour. He's since cancelled the European leg of his tour and has been spending the holidays with his family, according to People.