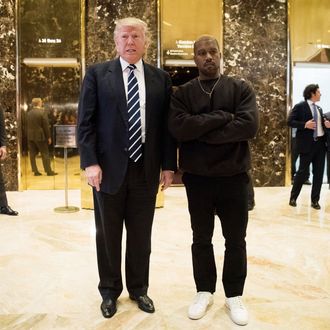 Donald Trump and Kanye West after their meeting about "life" in Trump Tower.
Photo: Drew Angerer/Getty Images
Well, this isn't entirely surprising: According to pool reports, Kanye West just arrived at Trump Tower for a meeting with the president-elect. West was recently released from the hospital, where he was reportedly treated for a "nervous breakdown." Before he was hospitalized, West told a crowd at a San Jose concert that he "wanted to vote for Trump" but did not actually vote.
What could West and Trump be meeting about today? The inauguration? A cabinet position? We'll update this post as more information becomes available.
Update, 10:02 a.m.: After a (short) meeting, Trump walked West back down to the lobby to greet reporters. Trump said he and West discussed "life." West did not comment to reporters except to say, "I just want to take a picture right now." This was all a great use of everyone's time.
Also: Please note Kris Jenner's boyfriend Corey Gamble standing in the background looking terrified.
Update, 3:24 p.m.: This afternoon, TMZ reported that West met with Trump to begin talking to him about violence in Chicago. Sources told the site West wants to build a relationship with the president-elect so that he can "promote peace on the streets." Minutes after TMZ released this report, West began tweeting about a similar rationale for the meeting:
Then West suggested that he plans to run for president in 2024, not 2020, as he has previously stated. Perhaps the meeting convinced him Trump should win a second term.