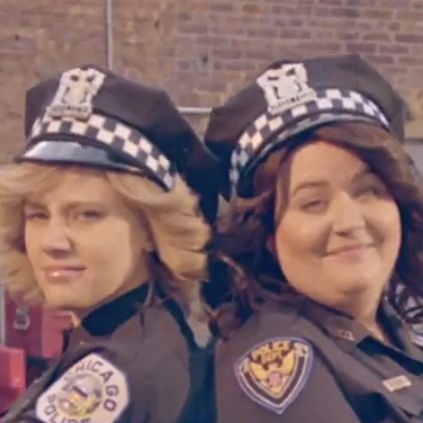 Photo: Saturday Night Live/Hulu
Ah, it's the most beautiful time of year! Kate McKinnon and Aidy Bryant busted out their classic '70s cop characters, Les Dykawitz and Chubbina Fatzarelli, to save Christmas from evil gangsters who steal Santa. Host John Cena plays their casually sexist boss who's embarrassed to use their nicknames but not too embarrassed to call them "broads." He soon learns that is a big mistake. Huge.
The origin story of this dynamic duo is short but sweet. "We were both really tired one night, and I just said to Aidy, 'Man, dyke is tired,' and Aidy said, 'Fats is tired, too.' And then it became our beautiful thing that we had together and we wanted to make something out of it," McKinnon said.
Come for the cat joke, stay for that split-second of genius when McKinnon throws a cup full of pens.