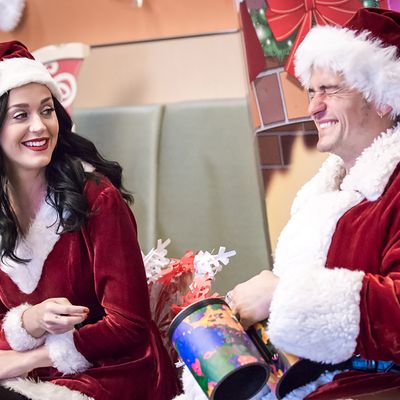 Introducing the Mrs. and Mr. Santa Claus.
Photo: CHLA/Splash News/CHLA/Splash News
Judging from their recent visit this week to Children's Hospital Los Angeles, Katy Perry and Orlando Bloom are definitely feeling the holiday spirit and they're not afraid of getting in character to spread the joy. The couple, who've been smitten for some time now, donned their best red velvet suits and matching hats (or perhaps they're just rentals?) to portray Mr. and Mrs. Santa Claus. They paid a visit to sick kids in the hospital and gifted gifts and sang some holiday tunes. And though Katy Perry is the pop star in the duo, Bloom wasn't afraid of joining in and adding some bongo drums to the mix, according to the Los Angeles Times. No word, of course, on whether his singing skills matched Perry's.

Either way, tis the season!