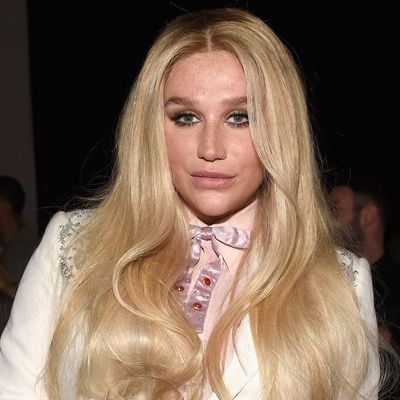 Photo: Kevin Mazur/Getty Images for Billboard Magazine
After a very public and emotional year of legal and personal battles, Kesha was honored Friday with the Trailblazer Award at Billboard Women in Music 2016. During her acceptance speech, the pop star spoke candidly about her personal struggles with an eating disorder and encouraged the millions of people who suffer from mental-health issues to seek help and support. Read her full speech below.
I'm not used to winning stuff … Thank you guys so much for this incredible honor. I want to especially thank my fans, who I appreciate more than you guys will ever know. To my peers, your support over the last few years has literally saved my life. [Sniffles.] Sorry. [Audience applause.] I've never really thought of myself as a trailblazer. I'm just as scared and flawed as any person I know. My message has just always been to believe in yourself and love yourself. When I write those words, I do so as a reminder to myself as much as anyone else. I've realized along a long roller-coaster — Jesus Christ — I've realized on a ride of ups and downs, that if I'm lucky enough to have a voice that someone will listen to, then I should use it for good and for truth. This is why I've spoken openly about some of my struggles with my crippling anxiety and being in recovery for an eating disorder amongst many other things.
I know I'm not alone. These are struggles millions of people around the world deal with on a daily basis. The irony is, when I was very very sick and getting sicker, I would hear about how much better and better I was looking, and that is a problem. I decided I want to be part of the solution. And that's why I decided to stand confident in my ever-changing, totally imperfect body and try to practice the self-worth and self-love that I preach in my music. [Audience applause.] Finding the strength to come forward about these things is not easy but maybe by me standing up here and telling my story, I can help somebody else who's going through something tough. I know it's scary, but once you take the first steps to help yourself, you'll completely change in the best of ways.
I've dreamed about winning awards about talking honestly about uncomfortable things. I wanted people to like my songs and think I'm pretty and think my videos are awesome. So, it's mind blowing to be honored like this after the very public year I had. I feel stuck and I feel sad. Quite frankly, today, I feel bloated. I didn't really feel like standing up and getting an award — didn't feel worthy of that. I knew I had to drag myself out of my bed, put on my damn boots and walk up here tonight and say thank you to you guys. [Audience applause.] Thank you so much for reminding me that what I'm doing is worth it. Thank you for caring. This is a huge reminder that I can't give up. I have to keep fighting for the truth and I have to keep fighting for my dreams. If I can't give up, neither can anyone else out there with dreams. Life is hard sometimes, and things don't always work out the way you planned it, but if you keep on believing and you keep working hard and you keep fighting and you keep showing up for yourself, you can move mountains. Sometimes your journey can take unexpected turns, but that's the beauty of this life. So, get up and show up for yourself and don't let anyone stop you, and most importantly, do not let anyone else ever take your happiness. You are worth it. And thank you for reminding me I'm worth it, too.