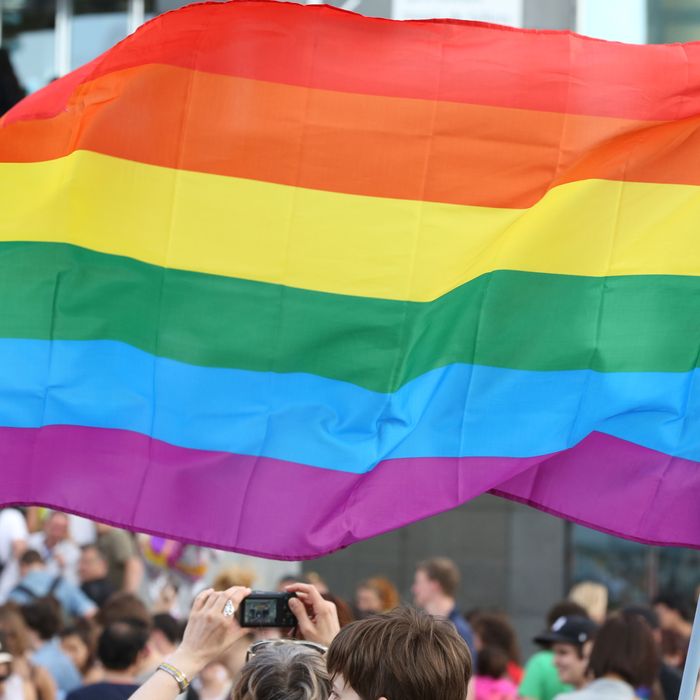 Photo: Pascal Deloche/Getty Images
In 2009, the day after someone saw teacher Kimberly Hively kiss her girlfriend good-bye in a car, an administrator at the Indiana community college where she worked allegedly told her that "sucking face" was unprofessional. In a lawsuit that could now go before the Supreme Court, Hively says the school repeatedly refused to promote her for four years after that, and then fired her, because she is a lesbian.
In a hearing at the 7th U.S. Circuit Court of Appeals in Chicago on Wednesday, several federal judges fired back at the school's lawyer and indicated they're ready to expand the 1964 Civil Rights Act to protect the LGBT community — a move that would secure LGBT rights in the workplace and overhaul nondiscrimination law nationwide.
During arguments in Hively v. Ivy Tech Community College, a few judges repeatedly interrupted the school's lawyer, who argued the word "sex" in Title VII of the Civil Rights Act — which bans workplace discrimination based on race, religion, national origin, and sex — applies only to whether a person is male or female, not their sexual orientation.
"Who will be hurt if gays and lesbians have a little more job protection?" Judge Richard Posner reportedly asked. When the attorney admitted he couldn't think of anyone, Posner fired back again: "So, what's the big deal? … Are we bound by what people thought in 1964?"
Hively's lawyer pointed to a 1989 Supreme Court decision that said Title VII prohibits sex discrimination based on not conforming to gender norms, explaining how this presented an equal-rights gap for their current case: "You can't discriminate against a woman because she has a Harley or has tattoos or has Bears tickets," he said, "but you are told you can fire her because she is lesbian."
If the court rules in Hively's favor in the next several weeks, it would be the first U.S. appellate court to rule that the Civil Rights Act covers sexual-orientation discrimination. And while legal experts say the case would likely go to the Supreme Court, some worry that a majority of justices may not agree to protect LGBT employees if President-elect Donald Trump places conservatives on the court.
A college spokesperson told the Chicago Tribune that Ivy Tech didn't fire Hively because of her sexual orientation but didn't say why she was dismissed. "My biggest thing has always been that what they did was just unfair," Hively told the newspaper. "They literally could have rendered me homeless in a very significant way, and I don't think people should be able to do that."