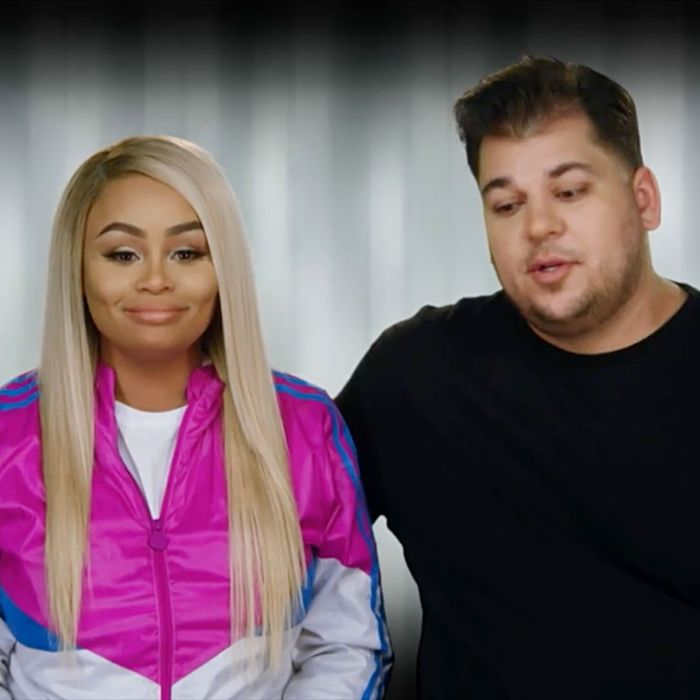 Blac Chyna and Rob Kardashian.
Photo: Courtesy of E! Entertainment
You never know what kind of twist the plot will take in the lives of the Kardashian and Jenner family (and now, by extension, that of Blac Chyna). Much has been made of the convoluted/complicated relationship between Kylie Jenner, the youngest of the Jenner fam, and Blac Chyna, the unexpected love interest of Rob Kardashian, Kylie's half-brother. It's also well-documented that Jenner has a … can we say "cringe-worthy and awkward connection" to Chyna, since she's dating Tyga, who was once engaged to Chyna, with whom he shares a young son. And now that Rob Kardashian and Chyna have a baby girl, the relationship is here to stay, no matter what happens.
And yet (and yet!) we have another twist in the plot of the Kylie and Chyna saga. You see, as TMZ reports, Kylie is renting out one of her homes to her brother and Chyna.

How's that for a fun fact?

Let's hope no one gets into an argument and threatens to kick anyone out. On second thought, producers of Keeping Up With the Kardashians might already be at work on it.