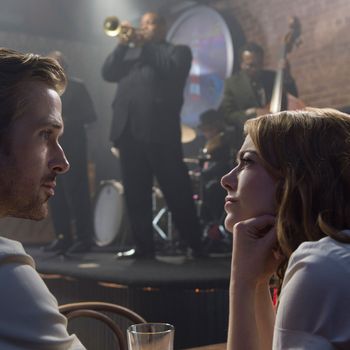 Ryan Gosling and Emma Stone in La La Land.
Photo: Dale Robinette/Lionsgate
With apologies to Cameron Crowe, no director has done more for the image of the Male Music Nerd in popular culture than Damien Chazelle. Following up on Guy and Madeline on a Park Bench (his 2009 debut, a jazz musical about whether a guy can date a girl who doesn't "get" his music), and Whiplash (his 2014 ode to musical mastery and masochism), Chazelle now brings us La La Land: a heartwarming romance that boasts a Male Music Nerd not merely as the protagonist, but as the swoon-inducing romantic lead.
As any woman who has ever been on the receiving end of a musical mansplaining session knows, this is a disturbing development. It seems that Chazelle, himself a former jazz drummer, wants us to love not just jazz, but also to love men who love talking about loving jazz. Giving this role to Ryan Gosling — Earth's most likable and charming man — is merely a sneaky way to redeem a terrible music-nerd archetype that should have been decisively retired somewhere between Almost Famous and High Fidelity (i.e., the year 2000).
La La Land is a whimsical old-fashioned Hollywood musical about two Angelenos with big dreams: Mia (a delightful Emma Stone), an aspiring actress and playwright, and Seb (Ryan Gosling), a jazz pianist with a chip on his shoulder. If you've ever dated in Brooklyn, you have dated a man like Seb. His most prized possession is a stool owned by Hoagy Carmichael, which nobody is allowed to sit on. He listens strictly to vinyl and cassette tapes. He dreams of opening his own club, a club that plays "pure jazz," like they did in the good old days. He refuses to date women who don't like jazz (as if dating in L.A. weren't hard enough). He gets fired from his job because his boss won't let him improvise on the Christmas songs.
Early on, after a few chance run-ins lead to a burgeoning flirtation, Mia makes a damning confession: She doesn't like jazz. This is a big mistake. Only tell a Male Music Nerd that you do not like their preferred music if you have at least four free hours on your schedule to be taught exactly why you're wrong. Seb responds by dragging Mia to a jazz club in the middle of the day. "It's conflict and compromise," explains Seb, talking loudly over the live band that they came to see. "It's new every time … and it's dying." (I prefer Lisa Simpson's explanation: "You have to listen to the notes she's not playing"). Mia is ultimately convinced, seemingly not by the music itself (which Seb keeps talking over) but by the passion and enthusiasm with which he presents it to her. "People love what people are passionate about," she concedes. As any woman who has been dragged to a Phish concert against her will can attest, this is not always the case.
Seb doesn't just want to play jazz; he also wants to save jazz. "They always say, 'Let it die.' Not on my watch," he declares, stating his intention to open a club that will resuscitate the genre, much as Chazelle has set about to breathe new life into the old-fashioned movie musical. (This is a complaint for another essay, but positioning Ryan Gosling as jazz's white savior while relegating black musicians to the background left a sour taste in my mouth.)
While the film is carried entirely by Gosling's winsome charisma and Emma Stone's wonderfully intelligent and expressive acting, neither of them have much to work with in the way of backstory. Pretty much all we know about Mia's life is that she's from Boulder City and had a weird aunt who made her watch old movies. As for Seb, we know simply that he loves jazz, which functions simultaneously as career, passion, and catchall personality trait. Musical taste has long been used as a signifier for emotional depth, and Seb's love of jazz is depicted as essential to his status as desirable romantic lead: He's a throwback, a dapper romantic from another era with old-school tastes to match. He's an uncompromising purist à la Llewyn Davis, which usually spells disaster, but here is used (mostly) as a marker of integrity. He's talented, yes, but his technical skill is matched by his soulfulness and sensitivity. He's discerning: a man who rebels against popular taste, and therefore is more desirable than the rest of L.A.'s basic bros. ("They worship everything and they value nothing," he says dismissively of Angelenos at one point.) He is, in short, a self-serious bore, and Gosling's performance is the only thing that elevates the role beyond cheesy emo-teen-movie stereotype — from Seth in The O.C. to Tom in 500 Days of Summer to Sam in Garden State (women, particularly Manic Pixie Dream Girls, long may they rest, are not immune to this affliction).

Eventually, complications arrive. Another musician, Keith (John Legend), shows up and invites Seb to be in his jazz-rock band. Keith has a different idea about what jazz should be: not a pure relic of an antiquated past, but a sound that can be modernized and fused with other genres. "How are you going to be a revolutionary if you're such a traditionalist?" he asks Seb. "You're holding on to the past, but jazz is about the future." (Thank god, another man here to tell us what jazz is about.) Seb takes the job, which sets up a conflict between integrity and pragmatism, as well as a conflict between Mia and Seb.
I'm not going to spoil what happens to our main couple — the ending is easily the best part of the film, lovely and bittersweet. But rest assured that there is one form of true love that the movie valorizes, one love that no heartbreak can tear asunder. And that is the love between a man and jazz.