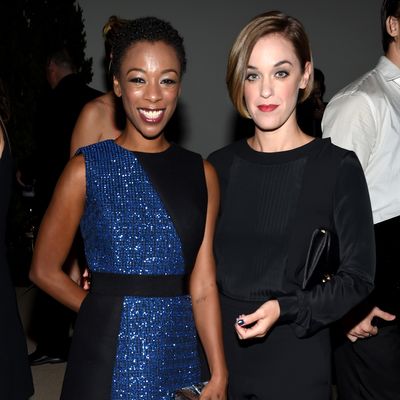 Orange Is the New Black's Samira Wiley and Lauren Morelli at the CFDA/Vogue Fashion Fund Awards.
Photo: Nicholas Hunt/Getty Images
Actress Samira Wiley, who played Poussey on Orange Is the New Black, has pretty much been with her OITNB-writer girlfriend Lauren Morelli since Morelli penned a lengthy essay about coming out. They were engaged back in October, and they're so adorable together that Out magazine chose them to cover its February issue. Naturally Out asked the couple to tell their proposal story and, well, just read it.
Morelli: I knew we were gonna be apart for a while — I was in New York shooting for Orange, and she was in Toronto for her new job on The Handmaid's Tale — so we'd planned this trip to Palm Springs as a light at the end of the tunnel. I realized I could propose right before and then we'd have the weekend there to celebrate. I found a ring, and they shipped it to me, and it was as if someone had handed me a ball of fire and said, "Here, tend to this." I was so nervous and terrified she knew it was coming, but she was so shocked that I couldn't get her to stop crying. She was hyperventilating. I thought, Oh, this is not good. This has gone too far. She was very clear she'd wait for me to be ready, so to give her something I knew she wanted so much was incredible. It was the most magical day of my life.
Morelli said that originally she'd planned to wait until their three-year anniversary, but she changed her mind: "I thought, 'What am I waiting for if I know I want this woman to be my wife and I want to spend my life with her?'"
For her part, Wiley said she was completely caught off guard. "We'd planned this weekend in Palm Springs … [but] she got home and was just not ready to go, and I was confused," she said. "We started dancing together, and she pulled a ring from behind the couch. Lauren has been married before, so I wanted her to tell me she was ready. I didn't know she was as ready as she was. I was completely shocked. I was crying uncontrollably." It was a rough year for celebrity couples — we needed this.