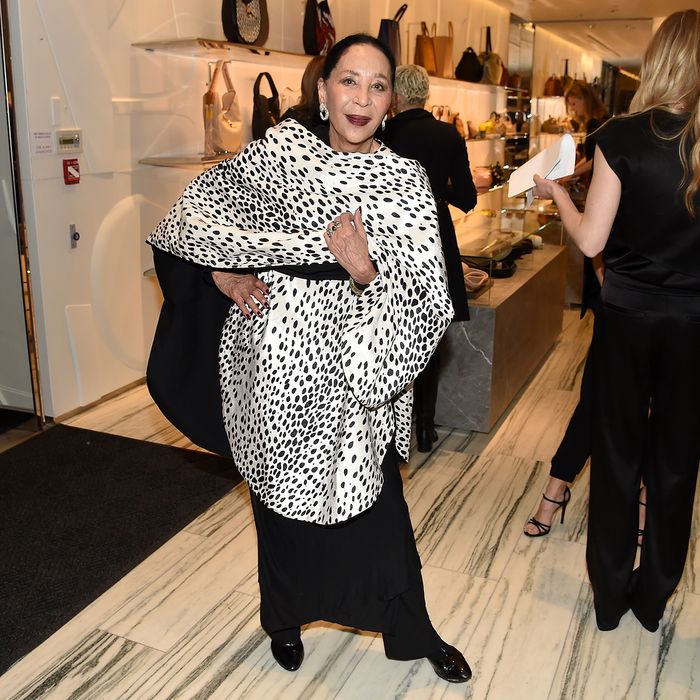 China Machado.
Photo: Nicholas Hunt/Getty Images
China Machado, the legendary supermodel whose career spanned decades after becoming the first non-white model to grace the cover and pages of a major fashion magazine and who subsequently went on to inspire many as a muse in the art world, has died. She was 86.* Women's Wear Daily reports that Machado died Sunday morning at Stony Brook University Hospital on Long Island after suffering cardiac arrest Thursday night at her Brookhaven,* New York, home. She would have celebrated her 87th* birthday on Christmas Day.
China Machado, born Noel De Souza Machado, rose to international fame after being photographed by the noted fashion photographer Richard Avedon. She first caught Avedon's attention in 1958 when she opened a show for Givenchy in Paris; a day later, she was in his studio being photographed for the first time as a "fashion model," she told New York in 2011. "I'd been photographed by a couple of stock photographers in Europe, but I was really a runway model for Givenchy in Paris, not a fashion model," she explained. "At that time, it was separated, you either did runway or you did photography. You didn't do both." From their first studio collaboration came that one iconic photo and the rest, as they say, is history. She was 28 at the time.

Machado's work with Avedon later led to her becoming the first non-white model to appear in a noted fashion magazine, thus setting the stage for many models of color to come in later years. Her appearance on the cover of the February 1959 issue of Harper's Bazaar, however, caused quite the stir at the time and almost didn't materialize until Avedon threatened editors with not renewing his contract. It was a shake-up Machado claims she never knew of until Avedon told her about it 20 years later, she told New York earlier this year. Avedon continued photographing Machado for three years until she joined Harper's as a senior fashion editor. She later worked as the fashion director for 11 years, according to WWD.

Her rise to fame was all the more notable given her peculiar life story, according to a 2013 New York profile:

Her humble beginnings make her life story sound even more like a fairy tale: Born to multiracial parents in Shanghai, her family lost their home and money when the Japanese invaded in 1937. They fled to the U.S. by boat, but were turned away in New York owing to immigration quotas, and wound up in Buenos Aires, then Lima. She was working as a stewardess when she was swept away at age 19 by the famous Spanish bullfighter Luis Miguel Dominguín, who took her to Europe and eventually left her for Ava Gardner.
Machado was modeling and designing clothes up until shortly before her death. She starred, notably, in a campaign for Cole Haan in 2013 and in October, the National Arts Club in New York put together an exhibition titled "A Muse Among Friends," which included photographs and paintings of her by such notable fashion leaders like Avedon, Bruce Weber, Andy Warhol, and Geoffrey Holder. Machado was also at work on a clothing label, Cheena, inspired by her upbringing in Shanghai, according to Vogue.
When New York asked Machado in October for what advice she would give her two daughters about men, she replied: "Do not in any way underestimate yourself. Don't take any kind of crap. I've always been that way because of the first love of my life [the bullfighter Luis Miguel Dominguín]. I really got kicked in my head. So I always say, 'The doors are always open,' meaning that he can always leave and someone else will come in. I think most men, they didn't like it very much, but they understood what I was saying."
Machado is survived by her husband, Ricardo Rosa, daughters Blanche LaSalle and Emmanuelle LaSalle-Hill, and two grandchildren.

*This post has been updated to show China Machado was 86 and lived in Brookhaven, New York.