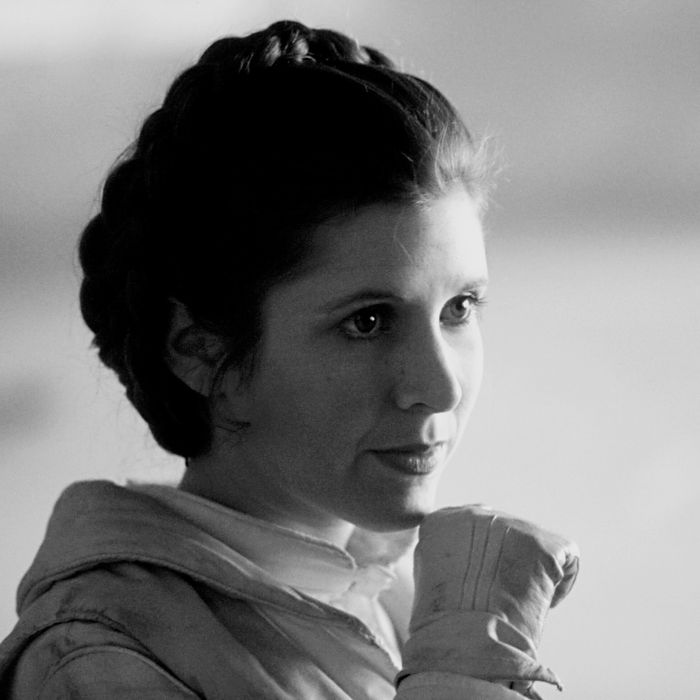 Carrie Fisher.
Photo: Sunset Boulevard/Corbis via Getty Images
Star Wars actress Carrie Fisher has died at the age of 60, just days after she suffered a heart attack on a flight from London to Los Angeles, People reports. Fisher was taken to UCLA Medical Center Friday after she lost consciousness on the flight; according to TMZ, she never gained consciousness again. "It is with a very deep sadness that Billie Lourd confirms that her beloved mother Carrie Fisher passed away at 8:55 this morning," family spokesman Simon Halls said in a statement. "She was loved by the world and she will be missed profoundly. Our entire family thanks you for your thoughts and prayers."
News of Fisher's passing was a crushing announcement for friends, family, industry colleagues, and generations of fans who knew her most famously first as Princess Leia and then as General Organa in the Star Wars franchise. But Fisher herself had become an icon to rival Leia. She joined the landmark sci-fi franchise when she was just 19 years old, but in the decades since has appeared in dozens more film and television projects, starred in a one-woman show, written eight books (both fiction and nonfiction), and become one of the most candid, funny, self-aware figures in entertainment.
Fisher's wry sense of humor brought scene-stealing life to roles that spanned decades in movies like Hannah and Her Sisters, The Burbs, Drop Dead Fred, Scream 3, When Harry Met Sally, Soapdish, and many more. In David Cronenberg's Maps to the Stars from 2014 she even appeared as herself, which is to say, as a harried Hollywood veteran providing counsel to Julianne Moore's emotionally strung out lead starlet character.
In her later years, Fisher's career extended beyond the screen. In 2008, the daughter of actress Debbie Reynolds and singer Eddie Fisher started curating the next phase of her professional life as a cult of personality, turning the character of Carrie Fisher into a larger-than-life figure with decades of Hollywood successes, trials, and tribulations to share with fans. She used her biting wit to dispense wisdom and tales about her famous family in her one-woman show, Wishful Drinking, which played on Broadway from October 2009 to January 2010 and resulted in an HBO documentary and a memoir of the same name. Fisher had previously penned several novels, but Wishful Drinking was her first nonfiction work. Her latest, The Princess Diarist, was released just last month.
The candid and dryly sensational Fisher turned her struggles into strengths, and in recent years took to speaking openly about her history with drugs and alcohol, sex with former co-stars, and about her rejection of the sex-symbol status she was handed thanks to the gold bikini she wore as "slave Leia." During the press tour for Force Awakens last year she even advised her young co-star Daisy Ridley on how to handle her sudden new fame by telling her "not to go through the crew like wildfire," lest someone end up with bragging rights about bedding a Star Wars icon. Her French bulldog, Gary, also became a staple of her public appearances.
From playing Princess Leia, to playing the part of Carrie Fisher, to simply being Carrie Fisher, the actress and personality was relentlessly herself throughout decades in the public eye. In Star Wars as in life, she represented endurance, candor, and a frank kind of charm, and she is survived by her daughter, Billie Lourd; her brother, Todd Fisher; her two sisters, Joely and Tricia Leigh Fisher; and her mother, Debbie Reynolds.