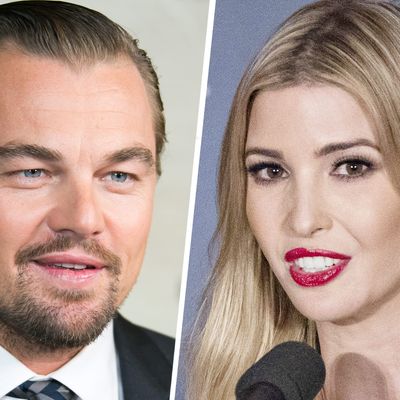 Leonardo DiCaprio and Ivanka Trump.
Photo: Getty Images
Although President-elect Donald Trump is an outspoken climate-change denier, his favorite daughter, Ivanka, has apparently decided to make climate change one of her "signature issues." And who better to educate her on that important topic than renowned Pussy Posse founder Leonardo DiCaprio?
The actor is merely one of Ivanka's many "left-leaning, high-powered" acquaintances who believe she will be the sole voice of reason in the Trump administration, the New York Times reports. To teach her about the dangers of climate change, the actor recently sat down with Ivanka for a private meeting. It was then that he reportedly gave her a copy of his National Geographic documentary Before the Flood, in which he investigates climate change one newsboy hat at a time.
Thank goodness Leo was able to take time away from his Wolf Pack duties for this important meeting.