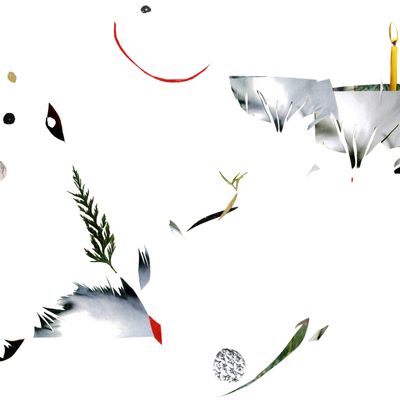 Get Madame Clairevoyant delivered every week.
Mercury goes retrograde in Capricorn today. These are the days for language to become untameable, to notice how a life can subvert and exceed all expectations. This isn't bad — and it isn't easy. Wednesday is the longest night of the year, but on Wednesday, too, the sun enters Capricorn. This is the start of a season of building. This is the start of a season of honest struggle.
Aries: If you know the limits of what you're prepared to do, then you can know who you might become. If you know the contours of your own feelings, then maybe you can love in different ways. If you know how heavy a burden you can bear, only then can you decide what to carry with you. Look at your face in the mirror. Touch your hands together and feel the warmth of your own skin. Knowing yourself is a joyful act, but it comes with responsibilities too.
Taurus: You're traveling through a strange region right now, a strange moment in time. There's no light here but the kind you can make. There's no way back, only a way through. Dress warmly, these days; dress for changing weather. Learn how to navigate by the stars, because there's nothing to do but keep going. This is not the end, at least not yet. There are so many midpoints — some bright, some bleak — and so few ends.
Gemini: The world will not be like this forever. Watch the ground under your feet in the morning, and the places where the terrain changes. There is pavement that turns to dirt, dirt that turns to grass, and grass buried in snow. Feel the earth's sorrows move through you, and your sorrows move through it. There's magic beyond what we can know.
Cancer: In a world with such violence, what could real goodness look like? It's not an empty question. Right now, nothing is static — not the words we speak, not the feelings we nurture, not the stories we tell. There's a chill in the air and a long night ahead. Take a bath; remember that warmth still exists. Strike a match and remember that you can make fire.
Leo: Courage doesn't always feel hot under your skin. You can keep surviving even when your mind feels rusted; you can keep doing good work in the world even when your heart feels sore. Happiness never stands still — it'll leave and return. Your goodness will come back to you in ways you can't yet predict. The things you do still matter, even when you don't feel their power right away.
Virgo: It takes so much to keep going. Even your own body can begin to feel heavy; even when you're in motion, the future can still appear so far away. It takes so much not to lose hope — how will you keep up your strength? Cut out your favorite poem and carry it in your pocket. Wear a sweater as soft as moss. Listen to your favorite loud song, then listen to it again. There are all these little kinds of magic for when you need them.
Libra: You don't have to mourn what isn't yet gone, though the temptation to mourn can be powerful. The trees lose their leaves, but it doesn't mean they're dead. The shortest day of the year is close; even this is not an end. The earth moves back into the light every year, and the trees bloom again. Love isn't inevitable, but it's still here.
Scorpio: There's a certain kind of joy in diving deep into your own vulnerability. There's a joy in holding your weakness and your need close to you. It's a strange skill, holding on to your whole bright range of human feeling. Remind yourself, if you need to, that your pain won't kill you or make you monstrous, and your ambition won't make you cruel. There are so many good ways to be a person.
Sagittarius: Sometimes, it helps to step away for a moment, to stay inside, to hold a quiet space within yourself. It's not a defeat to acknowledge how cold it is outside. Think of this week as a time for resetting your balance, a time for clearing your vision. The larger the world gets, the harder it is to see yourself truly. There are ways to know yourself in relation to the forests and the sky, and ways to know yourself in relation to the baby you were once. Remember this, and then you can move forward again.
Capricorn: Every year there are moments of closure; there is the sense, too, of windows opening, of the possibility of a new way to be. Sometimes life feels like it moves in a line, and sometimes it bends and loops. Another world is so close you could touch it, and sometimes this knowledge can be enough. There are all these open doors, and you could walk through any one of them. You don't have to, but you can.
Aquarius: If your commitment to truth is tested this week, how will you stand firm; how will you not be lied to? If your commitment to justice is tested this week, how will you steady yourself when your legs shake? Who will you call when your own voice fades? Don't imagine you need to do everything alone. This is a week for the joy in shared truth-telling. This is a week for the strangeness and the sweetness in traveling, together, into the unknown.
Pisces: We're nearing the longest night of the year. The coldness in the air grows ever sharper, but this won't be what kills you — your love won't end. There's a love that pulses inside you, there's a love that sings in the dark, and you don't need convincing that it's wild and tough and alive.
Get Madame Clairevoyant delivered every week.