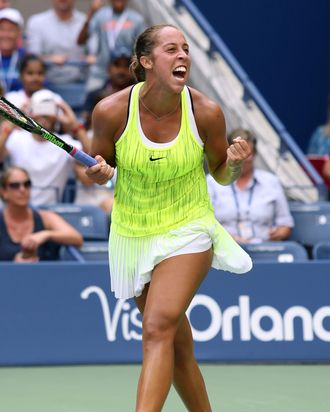 Madison Keys at the 2016 US Open.
Photo: Jean Catuffe/Getty Images
Last week, the eighth-ranked tennis player in the world found herself in a familiar place doing a very unfamiliar thing. Madison Keys was in the Rock Island, Illinois, high-school gym where she'd watched countless basketball games, but instead of cheering on the Rocks, she was listening to nearly 200 girls discuss the difference between how men and women handle conflict.
"One group was talking about how guys can have a fight and then they'll be like, 'Okay, I'm over it' the next day. Whereas girls will talk about it and then a lot of times you get into big fights or things get catty or nasty," Keys told the Cut. "Another group said it's interesting that when guys talk about their feelings, it's usually looked down on. It's 'Oh, they're emotional, they're being girly.' And when girls are emotional, it's like, 'Ugh, she's such a girl.'"
Dismantling such gendered stereotypes is a very different goal from winning a Grand Slam title, but Keys — the first American woman since Serena Williams in 1999 to be ranked in the top ten — wants to do both, and more. Immediately after the Olympics, the 21-year-old became an ambassador for FearlesslyGIRL, an organization that promotes leadership and empowerment among high-school girls through three-part assemblies called summits, at which girls talk with peers and mentors and, hopefully, develop a sense of confidence and community.
Next year, Keys will fund and host six summits around the world in the cities where she's competing. She'll balance workouts, matches, and travel with advising girls on how they can manage their friendships and relationships, improve self-esteem, and deal with bullies, who can often be other girls. (Keys, who is biracial, has been the subject of racist bullying online.)
"Girls are constantly getting labeled as 'catty' or 'nasty' to each other, and unfortunately it's true," Keys told the Cut. "I think we've all been in a position where we were hurt and maybe we lashed out and we were that catty, mean girl. But we should take take responsibility for those times and say, 'That wasn't okay. I shouldn't have done that. I should have just sat down and talked about what I was upset about instead of starting this rumor or whatever.'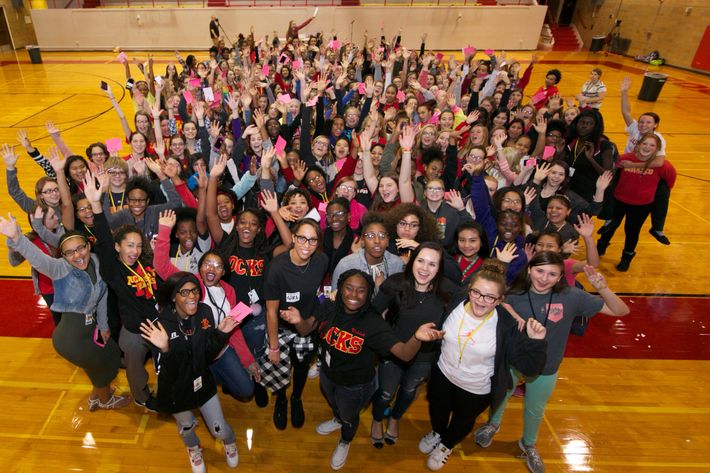 "I'm not saying that we're all going to be nice to each other for the rest of our lives … but being able to say 'someone hurt me, but I'm not going to go online and write something horrible about her and start this whole drama.' That's where I think girls get a really bad rap and that's what we're trying to stop."
The FearlesslyGIRL summit curriculum encourages girls to talk about what's bothering them and learn to be okay with asking for advice. "That's something that I struggle with even today," says Keys, the oldest of three sisters. "'Ugh, I don't want to ask for help.' And it's like, 'Why?' Asking for help doesn't make you weak or vulnerable or anything like that, it's just … sometimes you need help." Perhaps this stigma is rooted in the pressure for girls and women care for others before ourselves while voicing nary a complaint.
"We're trying to tell girls and young women, 'You're not your looks, your value is not based on the guy you're dating. You are a strong, smart young woman.' I think a lot of times that just gets so lost," she says. "How often do we go up to women and say, like, 'I heard you speak somewhere and I thought it was amazing and you're so smart and that inspired me to go and do this.' It seems like we don't have those conversations nearly as much as we're like, 'Oh, my gosh, I love your hair.'"
Why is a woman who can serve a tennis ball at over 120 miles per hour carving out time to talk to girls about their intelligence and worth? It's a tangible step she can take to make the world a better place, she says. After the shooting at Pulse nightclub in Orlando, she says, "It seemed like every morning I woke up, something else was happening. I remember I called my mom and started crying. I was like, 'I feel so helpless. I want to help people, I want to try to make the world a better place and I feel like I'm not doing anything, and that makes me so sad.'"
She'd already heard of FearlesslyGIRL, so she reached out and offered "to help in some capacity." In Keys's case, that ultimately means taking the organization's mission global because of her tennis schedule. She may not be able to change the world by talking to high-schoolers, but "if we have empowered young women who want other women to do well, and who are putting less hate into the world, that can only be good."