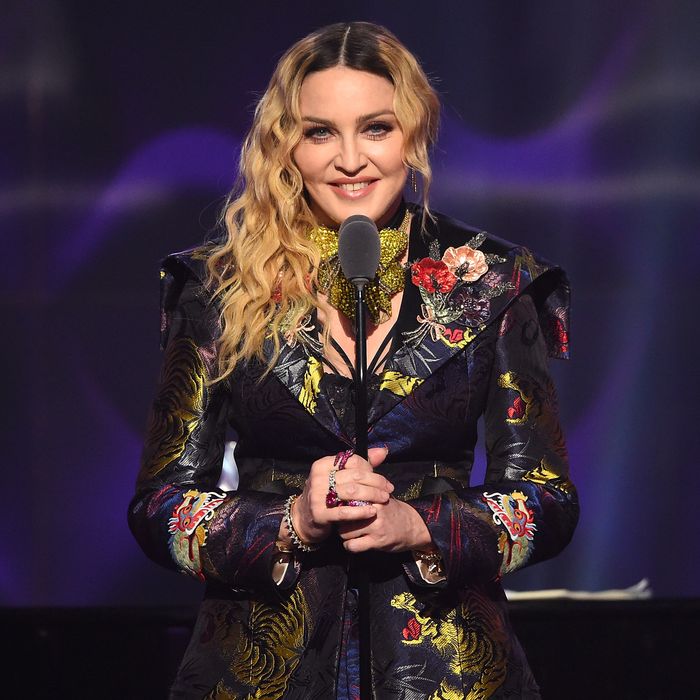 Photo: Nicholas Hunt/Getty Images for Billboard Magazine
Madonna was named Woman of the Year award at the Billboard Women in Music Awards, and her speech was nothing less than classic Madge. The fiery pop star began her speech by saying, "I stand before you as a doormat. Oh, I mean a female entertainer," and things just got realer from there.
"Thank you for acknowledging my ability to continue my career for 34 years in the face of blank misogyny, sexism, constant bullying, and relentless abuse. When I started, there was no internet, so people had to say it to my face. There were very few people I had to clap-back at because life was simpler then," Madonna said. The award-winning musician and rabble-rouser went on to discuss gender, feminism, and how she evolved over the years, citing David Bowie's gender-bending vibes as a major influence.
My real muse was David Bowie. Yes. He embodied male and female spirit and that suited me just fine. He made me think there were no rules, that I was wrong. There are no rules if you're a boy. If you're a girl, you have to play the game. What is that game? You're allowed to be pretty and cute and sexy but don't act too smart, don't have an opinion… You are allowed to be objectified by men and dress like a slut, but don't own your sluttiness and do not, I repeat, do not share your own sexual fantasies with the world. Be what men want you to be, but more importantly, be what women feel comfortable with you being around those men. And finally, do not age because to age is a sin. You will be criticized, you will be vilified, and you will definitely not get played on the radio.
Madonna went on to talk about seeking solidarity and finding none, and even talked a little bit about feminist firebrand Camille Paglia, who inadvertently sent Madonna on a path toward her own sort of bad feminism. "Camille Paglia, the famous feminist writer said that I set women back by objectifying myself sexually. Ugh, I thought. So, if you're a feminist you don't have sexuality, you deny it. So I said, fuck it. I am a different kind of feminist, I am a bad feminist." (Paglia actually dedicated two separate essays in Sex, Art, and American Culture to laud Madonna's career, writing in one, "Through her enormous impact on young women around the world, Madonna is the future of feminism.")
Then, whether she knows it or not, Madonna gave a shout-out to Ann Friedman's Shine Theory, about how it's better to befriend the women who intimidate you with their brilliance and power rather than fear or hate them.
As women, we have to start appreciating our own worth and each other's worth, seek out strong women to befriend, to align yourself with, to learn from, to be inspired by, to collaborate with, to support, to be enlightened by. True solidarity amongst women is a power all on its own, and no opposing force stands a chance in the face of the solidarity, but women need to feel secure and trust themselves, to believe in themselves and when we do, you will be unstoppable.
Reporting by Hilary Sheinbaum.