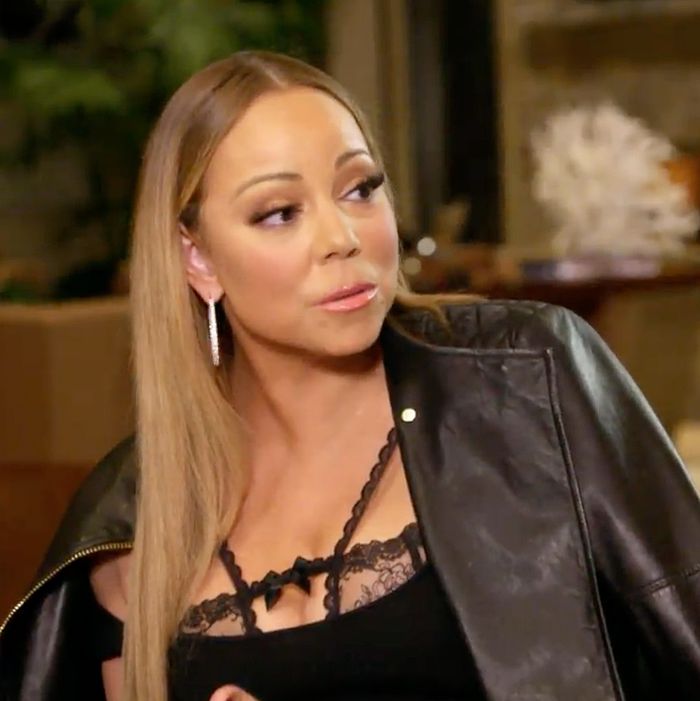 Mariah Carey.
Photo: Courtesy of E! Entertainment
With bated breath, Americans and citizens of this world have waited for the premiere episode of Miss Mariah Carey's reality show — pardon me — docuseries, Mariah's World. This show is the Mickey Mouse Clubhouse of reality shows docuseries. It's the crooked lining in a bag that otherwise looks designer. It's terrible, but so terribly good it should be locked away. Plus, it's scored solely by Mariah Carey songs; at the very least, you get solid bops to carry you through. Remarkably, this show will feature the disintegration of Mariah's engagement to giant and billionaire James Packer. We're also served strapless corsets, fishnet stockings, sunglasses resting on the head — Mariah's unique brand of cheap-look living on a large budget. It's genius.
For a truly inexplicable reason, Mariah chooses to begin with her alter ego "Bianca." Fictional character Bianca reminisces about her feud with Mariah Carey back in the day. Similarly to how the real Mariah lounges during interviews, Bianca is on a chaise propping up her body and terrible British accent. Mariah-as-Bianca chooses to seal moment by throwing a wineglass on the floor.
More troubling than Bianca, however, are the stats that flash across the screen telling us exactly who Mariah Carey is, how many albums she's sold and charts she's topped, as though we would be watching this program if we didn't already know.
Once Mariah's weird cold open is done, the real "show" begins. Mariah, on a yacht, nearly trips down a flight of stairs and then speaks directly into the camera. Fabulous! Like her wineglass, the fourth wall has shattered. She tells us that she never wanted to be followed by cameras, but she'd regret not documenting this moment in her life. That moment seems to be jumping off the yacht in a body-con ball gown and diamonds as her children, or #DemBabies, 5-year-old Roc and Roe, look on. Roe proceeds to ask her mother to cut it out. She's fearful Mariah will catch a cold.
Once back on dry land and in a silk robe, Mariah tells the camera that this yacht was a gift from her fiancé, James. James is shown briefly, sitting next to Mariah, mostly silent but most likely thinking of the mad scientist who turned him into a compact version of the Juggernaut. Soon after meeting James, we meet Shawn, Mariah's nephew, and the only levelheaded person of her crew. Then we meet Stella, her manager. Stella, Stella, Stella. Stella looks like Jessica Rabbit, if she were corn-fed, had no hairstylist, and grew up on Long Island.
Mariah teeters around her yacht, talking to her help and her children. Possibly bored by this supersize episode of Cribs, Mariah must leave the yacht, but before she can, a group of nameless women put on her shoes for her. Then, in the darkness of the night, Mariah is ushered onto a tiny boat and sails away.
It seems Mariah has sailed all the way to Los Angeles, because that's where we see her next. Like always, she's on a chaise, lounging across from self-proclaimed diva Stella, who guides her through some radio promos for her upcoming European tour. More stats about Mariah and now this tour flash across the screen, reminding viewers that Mariah should be touring. She's relevant! Tell your friends! Mariah is uneasy about heading out on such a large tour, especially as she gears up to plan her wedding to James, which is just weeks away. To lighten the mood, Mariah toys around with some fake European accents.
Without Mariah, Stella interviews a tour assistant, Molly, whom she hires. Now, Molly is … Molly is … not someone you would think works for Mariah Carey. She's not even 100th on the list of people you would think work for Mariah Carey. Shaky like a newborn chick, she's obviously an L.A. transplant, and/or an actress. Stella, testing Molly's strength, tells her that while working for her, she can't date or cry. This doesn't bode well for Molly, who has a boyfriend. This boyfriend comes to Molly's house, and is confused about his place in her life now that she's working for Mariah Carey. He's a little upset, but they decide to forget about their troubles and head to get candy and In-N-Out. Please let the record show that the footage from Molly's apartment looks like it was shot on someone's Android.
In efforts to humble and normalize Mariah Carey's lifestyle, we see her playing music at a piano with another musician named Jim. Mariah sings wisps of notes, and giggles. Next, we see Mariah trying on her wedding dress in front of her staff and children. Roe cutely compliments her mom, and Mariah remains anxious. Both she and Stella think it's impossible to plan a European tour and Mariah Carey–style wedding in just two weeks.
Back to tour planning: Mariah meets with Anthony, a dancer of hers that is now creative director of her tour. Seems like a very logical and not at all stupid promotion. In a billiards room in Mariah's home, Anthony takes her through some dance moves for the show (the two of them marking movements in front of a pool table). Mariah likes Anthony, but she frequently scolds him for not doing his job the way she likes it done.
Following their billiard-room rehearsal, Mariah has a billiard-room casting with Anthony and the male dancers he wants to bring on tour. In one of the most vile moments I've seen on E!, "Touch My Body" plays as a then-engaged Mariah sees her former backup dancer and now-current dating partner Bryan Tanaka. Even then, Bryan's confident about his connection with Mariah. They'd apparently been great friends when he worked with her years ago. She obviously remembers, and doesn't question him keeping his shirt on while the other male dancers show their bodies. Just as Mariah gets those sweet, sweet fantasy headline premonitions, Stella peeks her head into the room to remind both Mariah and Anthony they have to cut two of the dancers. She's the best!
As this episode plays out, the common theme within Mariah's staff is that Stella is the card-carrying worst. Mariah's makeup artist Kristofer asks about what happened to Mariah's longtime hairstylist, Danielle. Kristofer is seeking answers because Danielle was inexplicably fired, as were other members of their "camp," once Stella began her reign. Mariah's not too bothered by people losing their jobs; she thinks her staff has been coasting for far too long.

Stella even seems to want to fire James. Stella is constantly asking Mariah about moving the wedding and, in a frank moment, she tells the cameras that she's been dealing with James and Mariah's prenup, which is less than romantic. Mariah finally agrees to ask James to postpone the wedding. She's sitting with Stella on her balcony but steps away to make the call. Mariah returns somberly, says that James basically told her to keep him posted on when she wants to get married, and then she sucks on the world's tiniest Dum-Dum.
Mariah, who has invented the best initialism ever — JLT, for "job long time," which is something she herself has — takes some time to dip her toe into every part of her upcoming production. This even includes sitting with an audio engineer as he mixes and masters the music that will be used during her show. Then, at almost 10 p.m., Mariah heads to her dance rehearsal. She rehearses the whole show, including a moment where she's carried by her male dancers. This was a point of contention between her and Anthony. A couple of years ago, Mariah injured her shoulder when she fell while being propped up. Still, she hops up on the gym mat provided and allows these husky men to carry her. Mariah stays at this rehearsal until 5 a.m. For the full seven-hour process, Mariah remained in sunglasses because the studio was lit with florescent lighting (she has a rule about not being seen in such light sans sunglasses).
After just 30 minutes of talk about the tour, it's time for Mariah to head to Glasgow for her first performance! She is late and three hours behind schedule for her dance rehearsal, which upsets Anthony. As the clock ticks up to 11 p.m., Mariah is still not seen. Dissent begins to brew and a crew member is heard yelling about overtime.
Stella, though, is upset because the delay was caused by Mariah's nanny and a mistakenly packed passport. She also has to deal with Mariah bringing her children to the run-through because they want to play with Jaden, a random kid belonging to a staff member. Love this sampling of a normal life, where you hop off a private jet and immediately make your way to a midnight playdate at a concert venue!
Let us not forget about Molly, who is tasked with setting up Mariah's Apple TV. Molly explains that the Apple TV is the most important part of the tour. Apparently, Mariah needs the Apple TV on while she's sleeping. If it's not playing she can't sleep, if she can't sleep she can't perform, and if she can't perform she can't pay Molly's bills. Molly breaks down in tears, as Maria, Mariah's assistant/housekeeper, asks if she would like something to eat. She declines.
In the weeks to come, we'll hopefully see if Molly finally accepts food, watch Mariah stand upright without the support of people or a chaise, and understand why this rink-a-dink tour deserves eight hours of our time. Let this show also be a lesson to all of you who believe that you and your friends are crazy and wild enough for a reality show. If Mariah Carey can't pull it off, can you?