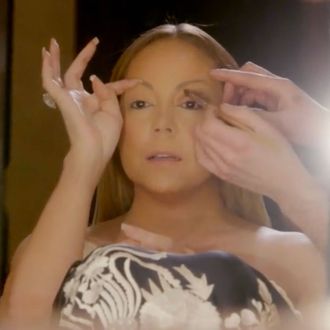 Both sides of Mariah Carey's face.
Photo: Courtesy of E! Entertainment
Welcome to week two of Mariah's World: The E! True Hollywood Story of How Mariah Carey Is Defrauded by Stella. This week, more characters belonging to Mariah's fun house come to life.
Unlike most reality shows, this week's episode picked up exactly where last week's left off. It's shocking that Mariah's show would use this model, since the show's timeline inconsistencies are made apparent by each scene's slight changes to her hairstyle.
It's almost midnight in Glasgow and Mariah is just now readying herself to rehearse the opening night of her tour, which is technically that night. But, because this is a dress rehearsal, she doesn't hit the stage until 2:10 a.m. This is great news for the new tour assistant, Molly, who is still trying to figure out how to set up Mariah's Apple TV. Her inability is taking Molly to dark places — she calls this the "worst day of my life" in her confessional.
Right before Mariah rehearses, she's visited by Bryan Tanaka. In her dressing room, they look longingly at one another, practice a secret handshake, sip beer through a straw, and speak in country accents.
While Mariah's onstage, her personal scam artist and tour manager, Stella, yells on the phone to their social team for not posting enough content promoting the tour. To right their wrongs, Stella gets her 12-year-old-daughter, Miska, to handle social media at 3 a.m. With a child at the helm of a social-media campaign for a world-famous icon, others on Mariah's staff begin to ask each other about Stella. Many refuse to answer questions in fear of being fired and replaced by a child.
In between shots of Mariah rehearsing, a slow montage of her older music videos play while she talks about her earlier career under Tommy Mottola's reign. She wasn't groomed as a touring artist, but rather as someone who was just supposed to put out record after record. Through grainy footage in the back of a restaurant, Jermaine Dupri calls that version of Mariah "Rapunzel." From where her seat next to him, Mariah nods in agreement.
After rehearsal, Mariah travels to London from Glasgow. She wants to create some stability for her 5-year-old twins, Roc and Roe, so she'll commute to each European city from her lavish London hotel, where the kids will stay. With Mariah is her longtime backup singer, MaryAnn, who has also brought her son, Jayden.
The following morning, Molly has a sit-down meeting with Kristoff, Mariah's makeup artist. Kristoff tells Molly, who has pen and paper in hand, not to be weird. This, according to Kristoff, will make her just fine at her job. In his confessionals, he says that he thinks Molly has a psychotic essence behind her eyes. Molly does have her eccentricities, like getting disgusted over the word "bathroom" (she calls it the "BR"), but I actually like her.
That night, Kristoff does Mariah's makeup for her opening-night show in Glasgow. While he's getting her face together, he asks to hear the tale of how Mariah came to think she had a bad side. Mariah's ready for story time, and puts on a smoker's voice to imitate one of her first photographers, who simply told her she had a bad side of her face. Makeup artist and musical artist giggle, and agree: Back in the day, Mariah suffered from bad makeup and lighting, but having a bad side is so much a part of her brand that she can't not have one.
Once she's done with glam, Mariah greets her fiancé, James. All he does is smile and pose a bit with Mariah for the video cameras. As this happiness is happening, Anthony, Mariah's creative director, choreographer, and dancer, is yelling at her tour manager, Rome. Anthony is upset that the dancers have been placed on a tour bus with backup dancer MaryAnn and her son, Jayden. Rome tells Anthony to take this grievance up with Stella. Anthony can't take this up with Stella just yet, as he has to be onstage quite soon for Mariah's performance.
Cameras follow Mariah in the moments right before she takes the stage, save the few minutes Mariah turns to them and asks for some privacy. The screen goes black, and next thing we know, Mariah is walking to her place onstage. What follows is a montage of Mariah singing and walking onstage in front of a stadium full of fans.
Post-show, everyone is ecstatic. Mariah feels great, Anthony is crying tears of joy, and Stella is reading the rave reviews from fans on Twitter. The energy swiftly changes, though, when Anthony asks Mariah why he was placed on a tour bus with a child. Before Mariah can answer, Stella's raspy voice yells something about budget cuts. As she sits staring at herself in her makeup mirror, Mariah looks concerned about the growing tension in her crew. Finally, she explains that she does like the idea of saving money, but she also doesn't think that a child belongs on the dancers' bus, with all of its "debauchery."
Nothing is resolved, so Mariah hops on her jet to head home to London, but the drama follows. MaryAnn calls Mariah, who is sipping the tiniest glass of red wine, to yell about Anthony's selfishness and to wonder if he knows who he's messing with. This leaves Mariah shook. While lounging on her confessional chaise, Mariah tells the camera that MaryAnn is not to be messed with, especially if it involves her child.
Mariah has the following night off, so she takes her kids to see the London Tower. They take photos and run around with a large entourage following them. This footage is juxtaposed with that of the dancers pouring shots for one another and drinking on their tour bus and in clubs, as they've won the fight and no longer have a baby onboard.
Sadly, they're unaware that they've won the battle and not the war, because MaryAnn is still pissed. The next show day just happens to be St. Patrick's Day, and Mariah calls everyone who is not wearing green "bleak." She came in full St. Paddy's Day regalia, which includes a green dress with diamonds and a white fur.
At the concert venue, MaryAnn has a word with Stella regarding Anthony and his behavior toward her son. She believes that he's gotten a little too comfortable on his high horse and forgot who he's messing with. MaryAnn is especially mad because she used to like Anthony and this ruined their relationship for good. Before leaving, she screams that Anthony will never be Abby Lee Miller and that their life is not Dance Moms. Then she storms out on that spectacularly high note.
The tension between Mariah, MaryAnn, and Anthony carries on into the show, during which everyone has an off night. Afterward, Anthony pulls Mariah aside to ask for an extra dance rehearsal between cities so they can brush up on their chemistry. Mariah doesn't necessarily say no to him, but she does tell him not to be saucy with her on-camera. Their conversation is cut off by Stella, who is yelling that they have to leave the venue now or else they'll be charged £5,000, and this is not a £5,000 conversation.
Back in London, Mariah enters her home to see drawings made by her kids. She shows the camera their scribbles and tears up. She cries some more when Roe is heard asking for "Mommy" during a confessional. Mariah then motions "cut" with her hands and walks off set.
Somewhere else in Europe, Mariah schools the children on Elevator Lighting. It's another form of lighting in which she won't be seen without sunglasses (she learned this trick from Christie Brinkley). After this, plus a quick pedicure and glass of red wine later, Mariah gets glammed up in a sequined bodysuit to take some photos for her fans. These photos are taken by her new 12-year-old social-media manager. The vibe is light, which is why Anthony thought it was the perfect time to make amends with MaryAnn. He sneaks up behind her to give her a gentle hug, and she immediately elbows him and screams for him to get off of her. Mariah comes running and tells Anthony to leave. Then, she looks to the camera to tell us that she's known MaryAnn for a long, long time, and Anthony needs to leave before something worse happens. What on this good Earth has Mariah seen MaryAnn do? The people need to know.
Join me next week for another recap and to see if Stella is using any of Mariah's money to buy a better wig!