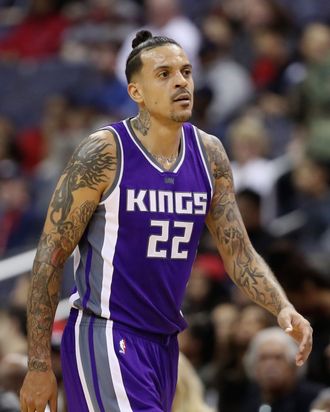 Matt Barnes.
Photo: Rob Carr/Getty Images
The NYPD is looking for Sacramento Kings player Matt Barnes following reports that he choked a woman in a nightclub, according to TMZ.

The incident reportedly occurred early Monday morning at Avenue Nightclub – Barnes was in the city for a Sunday-night Kings vs. Knicks game. Per what sources tell TMZ, Barnes allegedly choked a woman during an argument and then punched a man and a woman who tried to step in. Someone called 911, though Barnes left before the cops arrived.

This is not the first time Barnes has been accused of violence. In 2010, he was arrested for allegedly abusing his then-fiancée, Gloria Govan. Per an ESPN report at the time, "deputies say both Barnes and the woman had visible injuries, but took Barnes into custody after determining he had been the primary aggressor." (Govan later released a statement saying that the situation was "blown out of proportion" and "any accusations of domestic violence are false.")

Then, in 2015, Barnes reportedly drove 95 miles to estranged wife Govan's home to attack Knicks coach Derek Fisher after learning that Fisher and Govan were romantically involved.

The NYPD is currently investigating this latest incident and the Cut will update this post if any new information becomes available.