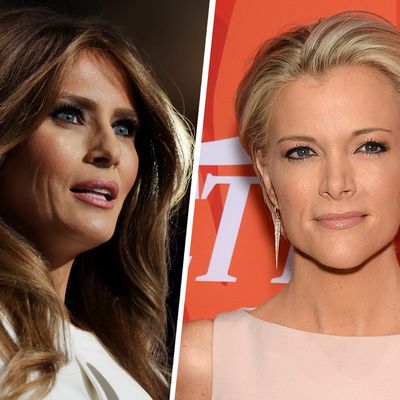 Melania Trump; Megyn Kelly.
Photo: Getty Images
Fox News anchor Megyn Kelly's relationship with feminism is …complicated, to say the least. "My problem with the word feminist is that it's exclusionary and alienating," she wrote in her recently published memoir, Settle for More. But many of Kelly's own beliefs could be considered "feminist:" She defended maternity leave on air, stood up to sexist attacks, and grilled Donald Trump's campaign manager on his sexist comments. And, in an interview for Net-a-Porter's Porter magazine scheduled to hit newsstands December 2, Kelly again played into her illusory identity of a feminist icon by defending Melania Trump.
"She's been subjected to some really staunch sexism, and I've been really offended on her behalf," Kelly told the magazine.
Kelly went on, "The New York Times called her a trophy wife and a mannequin, which is f-ed up and really offensive. Just because she's gorgeous doesn't mean you get to dismiss her. She speaks I think five languages. She's a mother. She's a supportive wife. She's an entrepreneur. I don't know how successful her businesses are, but she's out there trying. Screw them for saying that."
It's hard to say whether Kelly is friendly with the Trumps — she and the president-elect started a very public feud that lasted until she called him to request a private meeting. She's since spoken out about her treatment at Donald Trump's hands, saying, "There's no question that Donald Trump is thin-skinned and he can be mean-spirited, he can be vindictive … But my own experience with him proves that he's able to let them go if he so chooses."
This post has been updated to reflect the fact that Kelly said "staunch sexism" instead of "staunch feminism"; Kelly's publicist told us Porter magazine misquoted her, and Porter magazine confirmed the correction.