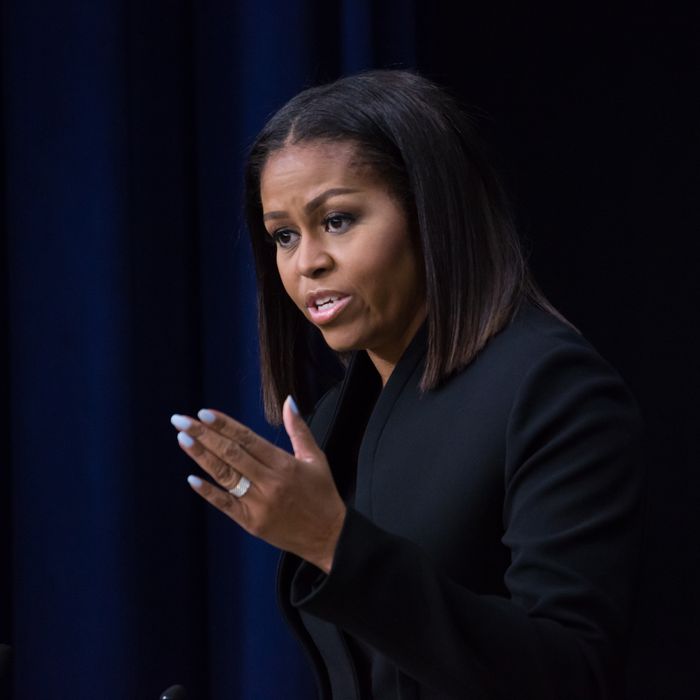 Michelle Obama spoke to Oprah about racial stereotypes.
Photo: Cheriss May/NurPhoto via Getty Images
Michelle Obama has openly discussed stereotypes before, saying last week that it's "ridiculous" to define people by their gender or skin color. But in an interview with Oprah Winfrey that's set to air on CBS on Monday night, the First Lady took the conversation a step further, discussing how she was personally affected by the racist stereotypes that stuck to her during her husband's campaign and even once they'd moved into the White House.
"That was one of those things where you just sort of think, 'Dang, you don't even know me,'" Obama said while discussing critics who labeled her an "angry black woman." She went on, "That's the first blowback because you think, 'That is so not me.' But then you think, 'This isn't about me.' This is about the person or people who write it, you know? That's just the truth. [And] you start thinking, 'Oh wow, we're so afraid of each other.'"
She added that she believes people should be judged by their "values" and "how we live our lives," which is how she set out to prove her critics wrong. "I thought, 'Okay, well let me live my life out loud so that people can then see and then judge for themselves," Obama told Winfrey.
In a separate clip, Obama said she learned early on not to hold onto negative experiences. "We as black women better be able to do it, because there's so much that comes at us … every day in subtle ways that could tear your soul apart if you let it. But my mother always taught me, girl, you'd better brush it off.'"