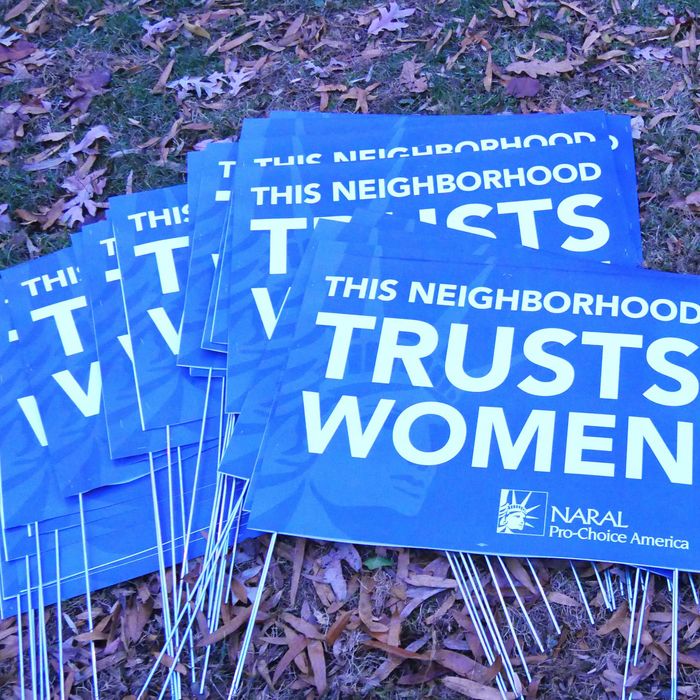 Neighborhood signs.
Photo: NARAL/Twitter
Neighbors: They're always there when you need a cup of sugar, or to stand up for equal rights when a vehemently anti-LGBT and anti-abortion vice-president-elect moves in temporarily. That's certainly the case for the residents of Chevy Chase, Maryland, who have been pulling out all the stops since Indiana governor Mike Pence rented a home in the neighborhood.
First, in a nod to Pence's long history of anti-LGBT beliefs and policies, residents started defiantly hanging rainbow pride flags on their homes. The flags will presumably hang until the inadvertent Planned Parenthood donor moves into the vice-president's mansion in January. And now, as DCist reports, they have also begun to stand up against his anti-abortion policies by putting up lawn signs that declare, "This Neighborhood Trusts Women," courtesy of NARAL Pro-Choice America.
"Part of our charge following the election is making sure that Mike Pence knew just how off base he was with the majority of Americans when it comes to abortion access," NARAL's communications director, Kaylie Hanson Long, told DCist. "The best way to let him know that is to go literally right to his door step and tell him."
Residents were apparently "overwhelmingly enthusiastic" when approached by NARAL about putting the signs on their lawns — including those living in the house directly across the street from Pence's home.