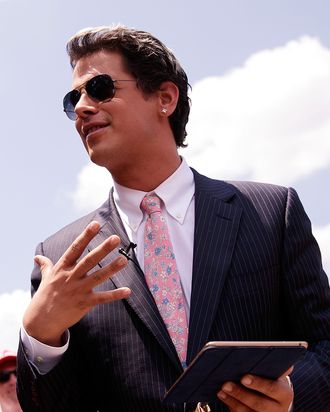 Milo Yiannopoulos.
Photo: Drew Angerer/Getty Images
Since Breitbart staffer and online troll Milo Yiannopoulos got banned from Twitter after inciting a massive wave of harassment against actress Leslie Jones, he's been on a college tour — including a stop at the University of Wisconsin, Milwaukee, where he openly mocked a transgender student. He also, apparently, has been finalizing a book deal: According to The Hollywood Reporter, Yiannopoulos has received a $250,000 deal from Threshold Editions, an imprint at Simon & Schuster.
A spokesperson from Threshold confirmed that they will be publishing Yiannopoulos's book, Dangerous, on March 14, 2017. They added that it "will be a book on free speech by the outspoken and controversial gay British writer and editor at Breitbart News who describes himself as 'the most fabulous supervillain on the internet.'"
As Yiannopoulos tells it to THR, "I met with top execs at Simon & Schuster earlier in the year and spent half an hour trying to shock them with lewd jokes and outrageous opinions. I thought they were going to have me escorted from the building – but instead they offered me a wheelbarrow full of money."
"Every line of attack the forces of political correctness try on me fails pathetically. I'm more powerful, more influential, and more fabulous than ever before," he added. "This book is the moment Milo goes mainstream."
At least this is going to make a hell of a Younger plotline.
Update (12/30 at 2:30 p.m.): Following backlash over their decision to publish Yiannopoulos's book, Simon & Schuster told the Associated Press that they "have always published books by a wide range of authors with greatly varying, and frequently controversial opinions," and asked that readers "withhold judgment until they have had a chance to read the actual contents of the book." Yiannopoulos's book has since topped the Amazon best-seller list.